Spread of disease by people and visitors to the farm
The role of people as a mechanical means of transmitting disease has evoked considerable debate over the years. Indeed some of the severe restrictions such as seven days pig freedom prior to entry onto the farm, would perhaps suggest that the human is covered in pig pathogens. To try and clarify this the writer carried out a review on 122 pig farms, covering a 15 year period, to determine the changes in health status that had taken place since their establishment. (Figs.2-18 and 2-19). These changes were then related to the various entry precautions that were adopted on the different farms. It is interesting to note that in the 41 herds that required a period of pig freedom, there were 27 episodes of disease breakdown other than porcine corona virus and only one herd remained free of the latter. However, in 20 of these herds the breakdown was due to enzootic pneumonia which we now know is only transmitted by carrier pigs or through the air. The provision of boots and protective clothing are the important criteria for disease control.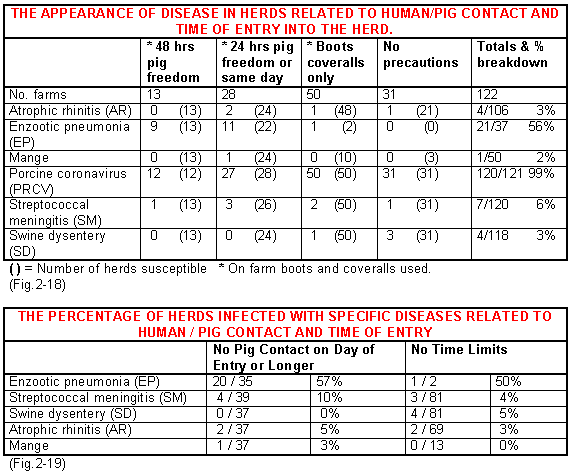 Recommendations for the control of people:
No visitors should visit the farm at any time unless wearing boots and coveralls provided by the farmer.
Visitors may be required to take a shower on entry, including a hair wash and to also ensure a complete change of clothes.
A period of pig freedom(i.e. 1, 2, 3 nights away from other pigs) may be required when visiting DHHS (defined high health status) farms.
No farm clothing should be used off the farm.
Foot dips should be used for entry to the farm and be properly maintained with a rapid acting disinfectant.
No equipment having had contact with other pigs should be allowed on the unit unless cleaned, disinfected and/or fumigated followed by a gap of at least seven days.
Staff should not own other pigs nor visit other pig farms.
Staff should not live on other pig farms.
Staff should not visit markets or slaughter houses.
No pig products should be brought onto the farm, or
All pig products for consumption that are brought onto the farm must have been well cooked.
All human food should be eaten in a designated area separated from the pig pens.
Hands should always be washed after meals and after going to the toilet.
The minimum recommendation for a high health herd at a commercial level would be no pig contact on that day, a shower and the use of the unit's own protective clothing. The necessity for a shower is often questioned. It exercises a discipline, fosters an awareness and good attitude and forces the visitor to make a complete change of clothes. It also eliminates chance pig infections from contaminated dust. The showers must be kept clean and warm or they will not be used. The nucleus herd of a breeding pyramid should observe 24 to 48 hours of pig freedom. This is also often questioned. It is in fact difficult to argue a scientific case for it but there are several cases where veterinarians visiting successive herds have spread foot-and -mouth disease and there is at least one clear case of a pig manager bringing back TGE from another farm. The minimum of an overnight gap, showers and change of clothes is probably adequate. It is strongly recommended that all farms should provide boots and coveralls for every visitor. Provided these precautions are carried out, field experiences over many years shows that people are rarely implicated in the spread of disease.
The higher breakdown rates with EP and PRCV reflect their windborne spread which none of these precautions would prevent. Streptococcal meningitis may be spread by flies and the introduction of sub-carrier pigs