Managing and treating sick pigs
Once a sick pig has been recognised the following sequence of events is suggested:
Identify the animal by spray or tag.
Carefully examine the pig and its environment.
What do you think is wrong with it? (If in doubt seek veterinary advice).
Take the rectal temperature.
Is it necessary to treat the condition?
What medicine has been recommended for treatment by the veterinarian?
What nursing/welfare provisions are there?
Should the pig be left in the pen?
What method of medicine administration should be used?
What dose level should be given and how often should the medicine be given?
Determine method of administration the site of injection, syringe and needle type.
Assess the response daily
Normal temperature 38.6ºC to 39.5ºC (101.5 to 102.5ºF)
Respiratory rate at 20ºC (70ºF) 25-30 per minute.
Having recognised the sick pig and the cause of the problem, a decision must be made whether to treat it in the pen or move it to a specialised "hospital pen". Treatment consists of three very important aspects, good nursing, good nutrition and necessary medicines. It is in the first of these that there is often a lack of awareness. Any pig that is so disadvantaged, either through lameness or sickness, that it cannot fend for itself, should immediately be moved into a hospital pen.
Sick pigs should only be left in the pen if they are still able to move around freely, have an uninhibited access to the drinker and are only inappetent for a maximum of 24 hours.
On every pig farm there should be 6 to 8 separate hospital pens per hundred sows. At least two pens should be available for weaners, two for growers, two for feeder pigs and two pens for lame or disadvantaged sows.
Each pen should satisfy the following criteria:
The floor should be solid and well drained.
It should be deep bedded on straw, shavings or other suitable material.
It should be well lit so that examinations are easily carried out.
There should be easy access to food and water, preferably by a water bowl and ad lib feeder.
One person on the farm should be appointed responsible for all sick pigs.
There should be a maximum of six pigs per pen with a floor area of up to 1m2 per pig for pigs up to 100kg and 3m2 per sow.
Adequate temperatures must be maintained in these pens and invariably this will involve either the provision of extra heating or the siting of the pens in a very warm building. To achieve this in weaners and the young growing pigs, it is necessary to provide an insulated micro-environment within the building, consisting of an insulated floor sides and roof with an infra-red bulb or alternative heat source controlled by a thermostat. Pigs will respond much more quickly if they are in a warm, well bedded environment. On one farm regularly visited by the author all ill pigs, no matter how mild, are always moved into a series of 30 small hospital pens. The owner often relates how many of these pigs reach slaughter weight days ahead of their healthy contemporaries. There is a lesson here.
The disadvantaged pig can be managed in one of four ways: (Fig.3-7 and 3-8).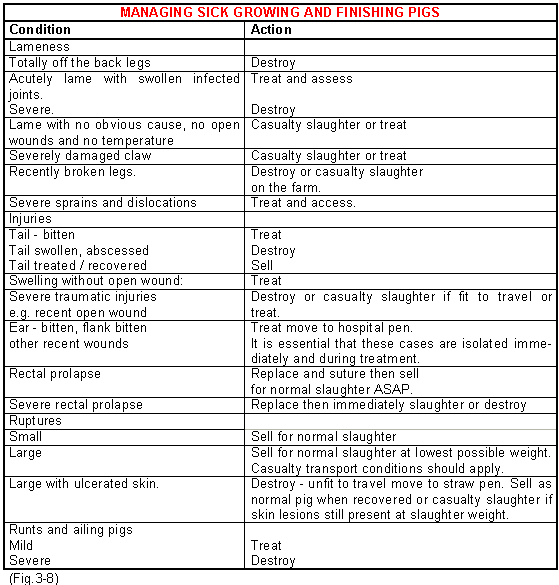 Sell to a slaughter outlet
This assumes that the pig is destined for sale through normal outlets and would include a pig that has been in a sick pen and has recovered, or one that is fit to travel, has no condition likely to render the carcase unfit for human consumption and no medicine residues.
Treat the pig
Treatment would be given on the assumption that the pig will respond and ultimately be fit for normal slaughter. Having made this decision, a careful review should be made of the progress on a day by day basis and if the pig is not responding, either the treatment should be changed, further advice sought, or it should be destroyed.
Casualty slaughter
The animal should be capable of being transported to the nearest available slaughter house without compromising its welfare. A veterinary slaughter certificate or owner declaration may be required, depending on the welfare rules and regulations. Such animals might be lame or with fresh rectal or vaginal prolapses, or maybe slow growing pigs. On farm slaughter of the pig may be necessary for welfare reasons, for example a broken leg or acute severe lameness. This should only be carried out if the carcase is likely to be fit for human consumption.
Destroy the pig
There should be facilities on the farm for humane destruction of all ages of pigs. (See chapter 15 Slaughter).