How to recognise poisoning
This is never easy because of the myriad of potentially toxic substances likely to be present on a farm, however always look for the most common and obvious first.
A poison may only affect an individual animal within a group because it was the only one inadvertently exposed to it. For example a toxic dose of medicine was administered by mistake.
Similarly most or all the pigs in a pen, a number of pens or a complete building may be affected, indicating a much wider exposure. Finally a complete herd may be affected - invariably associated with a common feed, water source or airborne pollution.
Step 1- Study the history carefully
Consult with your veterinarian
Is the onset rapid - usually within 48 hours? If so, are a number of pigs affected?
Is only a particular age group affected, for example gilts, sows, sucking piglets? If so, what is common to the group?
What routines, medicines, management procedures have been applied to the group recently?
Is a particular area of the farm or a number of pens affected? If so are there any common factors?
Does the appearance of the condition coincide with the introduction of a new batch of feed or feed ingredients, a change in water or other local change?
Step 2 - Clinical signs
List the clinical signs. (See Fig.13-1 and Fig.13-2).
Common features of poisoning include:
Rapid onset - (There are however exceptions depending on the dose level and period of exposure).
A defined group of pigs affected.
A number of pigs with identical clinical signs.
Not a recognisable disease.
Rectal temperatures are usually normal.
Clinical signs of different poisons
A broad outline of how different poisons affect different systems of the pig is given in Fig.13-1.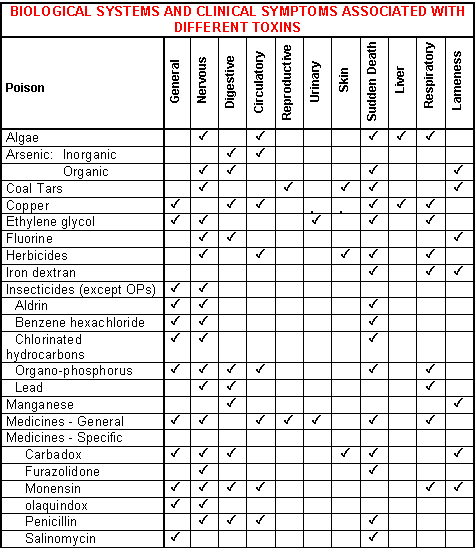 This can be used to help identify possible causes, particularly if used in conjunction with Fig.13-2. Specific systems of the body may be affected and develop the following signs:
Circulatory system
Anaemia.
Cyanosis (blue discoloration of skin).
Increased respiration.
Jaundice.
Haemorrhage.
Digestive system
Abdominal pain.
Diarrhoea - with or without haemorrhage.
Rectal prolapse.
Salivation.
Vomiting.
General effects
Generalised malaise.
Reduced feed intake or complete inappetence.
Reduced growth.
Locomotor system
Abnormal gait.
Ataxia.
Incoordination.
Lameness.
Nervous system
Blindness.
Excitation.
Fits.
Incoordination.
Spasmodic movements.
Reproductive system
Abnormal oestrus.
Swollen vulva.
Abortion.
Embryo reabsorption.
Failure of fertilisation.
Respiratory system
Coughing.
Difficulty breathing.
Pneumonia (found at post-mortem examination).
Sneezing, nasal discharge.
Skin
Colour.
Haemorrhage.
Irritation.
Vesicles.
Urinary system
Blood in the urine.
Cystitis / pyelonephritis (found at post-mortem examination).
Excess mineral deposits (found at post-mortem examination or in the urine).
Pus.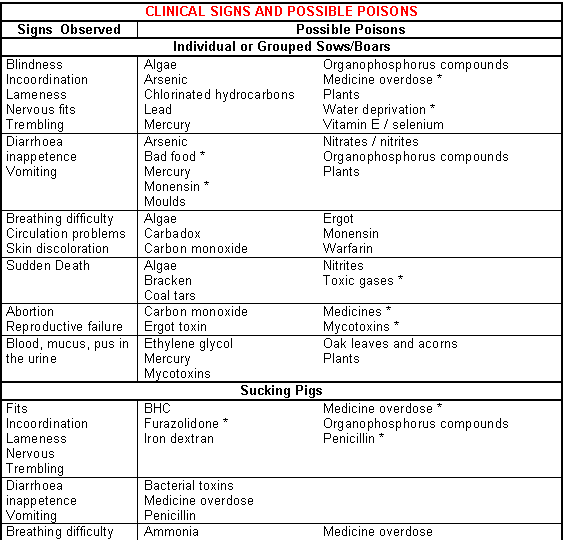 Step 3 - Post-mortem examinations and records of mortality
Post mortem examinations may assist in differentiating between a specific disease and toxic conditions. Samples from tissues are probably required for further laboratory tests. The number of deaths and whether they are sudden or after a short or prolonged illness may characterise certain poisons.
The information assessed from steps 1 to 3 will raise a suspicion of poisoning.
Step 4 - Identify the possible sources of the poison
List the chemicals on the farm - sprays, pesticides etc.
List the medicines on the farm.
What injections have been given?
Are rodenticides used and available?
Are parasecticides used?
Could any sources of feed be suspected?
Is there evidence of spoiled or mouldy feed or mould in the feed delivery system?
Consider water, bedding and other environmental contaminants.
Are sprays / disinfectants used.
In out-door herds consider plants, water and environmental contaminants.
Do any of the signs fit into Fig.13-1 or Fig.13-2?
Step 5 - Identify the toxin
Use Fig.13-1 to identify the potential toxin or toxins, together with the history and symptoms.
Step 6 - Read about the poison
Refer to the poison in the text and administer treatments in conjunction with veterinarian advice.
Step 7 - Confirm the poison
Refer samples to a lab for confirmation. (Fig.13-3).