To help you understand the processes of fertilisation and pregnancy Figs.5-11 and 5-12 show the anatomy of the reproductive tract of the female.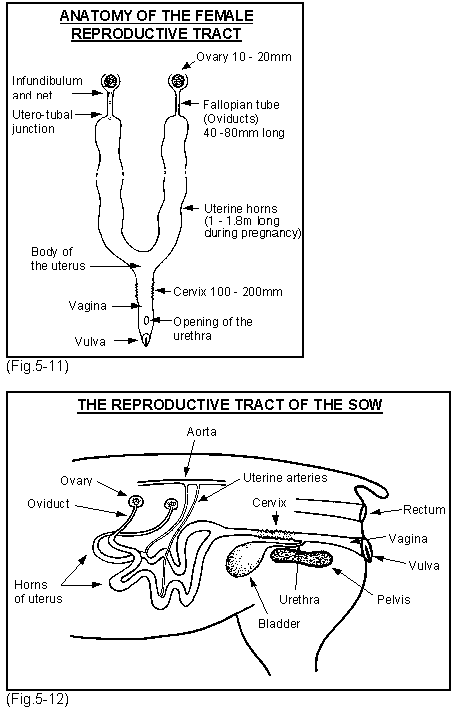 Note in Fig.5-12 that the opening of the urethra (tube from the bladder) lies on the floor of the vagina, approximately 70mm inside. If a boar has very long back legs the penis enters the vagina in a downward movement and the tip of the penis sometimes enters the urethra. In such cases the sow shows pain and there is the potential for damage which can result in cystitis or infection of the bladder. Two uterine arteries branch off the main aorta and supply blood to the womb. In the pregnant state the changes in blood flow in these arteries are used to diagnose early pregnancy. See chapter 15.
By studying records and carrying out clinical observations and pathological tests it is usually possible to determine precisely where reproductive failure has occurred. Such failures can be conveniently grouped into six categories related to stages in the reproductive cycle. In most cases failure can be narrowed down to one or two of these. (Fig.5-13). However, to determine the causes of the loss it is first necessary to understand reproductive physiology, both in the sow and in the boar. The stages of development from fertilisation to farrowing and the consequences of each group failing are shown in Fig.5-14. You should spend time studying this to appreciate the procedures that are available for corrective action on the farm.