Conference report: Tomorrow's agriculture must be science driven
UK - 'Putting science into practice' may have been the theme of JSR's 18th technical conference theme, but the clear message was more on the vast ignorance retailers and consumers have about the volume of science already involved in UK food production, writes Jane Jordan, ThePigSite Editor.

Professor Chris Pollock
British pigmeat is a highly technical product, developed in line with specific market demands and consumer preferences. It places significant investment in genetic and nutritional research; and technical progress in management systems and husbandry.
However, it appears the industry has lost out considerably - it has not reaped the financial rewards of its high-tech advancement; it was the retail sector that had creamed off the benefits.

This stark message came from Professor Chris Pollock, Director of the Institute of Grassland and Environmental Research and Honorary Professor at the Institute of Rural Sciences, Aberystwyth.

He said told delegates that agriculture is the most technically advanced and scientifically led industry in the UK. Yet it had always given away the value of its scientific progress for free. The retail sector had exploited this, gaining fortunes, gratis, as farmers, and their suppliers, had willingly responded to price pressures by embracing science without acknowledging the investment involved.

The price of food at the retail counter has been kept down as a result of greater efficiency, improved quality and safer, healthier products. However, these benefits had not been passed back to producers and the UK industry was now paying a high price for this, said Professor Pollock. The rapid pace of change now happening in global food market meant that this had to change tack.

"Agriculture will have to look beyond its boots because tomorrow will not be the same as yesterday," said Professor Pollock.

Floundering
The industry was floundering against a tide of rising costs and increasing competition. The era of cheap food was over, but there were opportunities to shift the balance.

"Today food is cheap, safe and secure - but that's changing. What will be the priority in five year's time? I'd like to think safe and secure, but if the emphasis is placed on producing the cheapest products then there will be massive uncertainty and tremendous risks to food safety and security," said Professor Pollack.

He said retailers would have to decide what was important. Dumping the 'cheap ideal' was surely the best option and it would help to protect the UK farming sector, particularly livestock producers.
"Cheap food is unsustainable, it mines resources; will these £multi-million organisations risk food safety and market security?" he questioned.

The conventional grocery sector currently has a £104 billion market value, annually. It is the key influential market and UK farmers must be proactive at claiming its share. High prices and high costs are a modern reality and the consumer must pay, said Professor Pollack. But producers must also learn how to add value to their products and hold on to it; not just hand it over to the retail sector like it has done in the past.

There are many challenges ahaed and depleted research budgets have left the farming industry vulnerable. There was little relevant, applied research taking place and clear concerns were emerging as to how the UK agricultural industry would survive in what is an increasingly global, sustainability- driven, agri-economy.

There was a massive void in Government support or understanding of how land use and UK food production was linked. Professor Pollock said energy and environment were not tradable commodities, but had been integrated into agriculture and become a factor of food production. This was not the best policy, as in most cases the primary goals of each sector were at opposite ends of the spectrum.
Committed research base

Dr Grant Walling
Agriculture has always had a clear commitment to scientific research and its integration into practical production. It is a very scientific, applied business and swift to take on new developments. However, the public's perception of science is a huge barrier to the industry and one that need to be overcome, said Dr Grant Walling, JSR's Director of genetics.

"The challenge is how as an industry we address this and use it to our advantage. There are clear reasons why the pig industry has developed in the way it has. Science has been successful in helping it meet market demands and increase efficiency throughout the chain," he said.

The pig and poultry sectors were probably the most foward-thinking livestock businesses and at production level farmers are willing to accept technological advances. "They appreciate and understand the value of genetic development and they expect it," said Dr Walling.

However, what is routine for pig production companies, be they breeding organisations or commercial units, are regarded as highly technical procedures by other observers. The industry had some responsibility to educate and inform its customers, to offer them assurance that what it does is safe, humane, ethical and valuable.

"We are not 'blue sky' scientists; what we do has commercial relevance and consumers, and to some extent retailers, need to understand this and we should be helping them too," he added.

However, Dr Walling believed that agriculture had become a victim of sensationalist headlines and the publics genial 'fear' of all things scientific.
"Mention the work genetics and many people assume crack pots in white coats doing harmful things to animals. It's not the case, and we need to demonstrate to these opinion leaders the significant benefits our scientific research brings to food production and society," he added.
Technology driven
Graham Plastow
To some extent, technological development is market driven, although getting science into practice is not a simple task, said Graham Plastow, Director of Alberta Bovine Genomics, at Edmonton University in Canada.

There were numerous technologies still 'sitting on the shelf' due to welfare or political reasons. And there are others - some deemed useful to a livestock industry - that may never come to fruition either, said Mr Plastow.

One such advance is semen sexing in pigs. "Although the ability to determine the sex of progeny may have economic advantages, commercially it's a non-runner because of the hoops you'd have to jump though to get it to the market place," he said, wryly.

Perhaps a controversial subject, as many breeding companies would welcome this technology, but like many bio-tech developments, Mr Plastow believed that the legislative, regulatory and ethical 'red tape' involved in licensing such a technique would probably outweighed the economic benefits it may offer.

"Biotechnology has biological constraints and we need to focus on the genetic developments that can make the greatest impact," he said.
He quoted work by geneticist Dr Buys in Belgium which discovered the IGF2 marker gene. This valuable discovery had significant commercial relevance because of its influence in lean meat deposition. Selecting males with the gene improved carcase values and had an immediate effect on lean meat productivity in the progeny. Selecting females without the trait benefitted dam line traits and maternal ability.
Retaining resources, securing prospects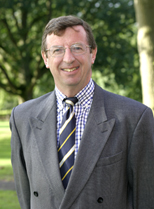 Professor Wynne Jones
Other speakers at the conference included Professor Wynne Jones, Principal and Chief Executive of Harper Adams University College. He focused on the importance of training and retaining skilled entrepreneurial staff. Leaders, leadership and commitment were vital, but the industry was losing this calibre of personnel, said Professor Jones.

"A technology driven industry needs technologically capable, skilled people to run it and we must produce and retain these skilled young people," he said.

However, other industries were recognising the immense skill and value of rural entrepreneurs. "They have drive and commitment; they are resourceful and resilient and willing to forgo usual regime to get a job done," he said. It was these qualities that other sectors were attracted to and willing to reward and why so many agricultural graduates were moving out of the industry.

Professor Jones suggested that a core professional identity - perhaps a professional organisation that is recognised and supports professional agriculturalists - may help retain our 'bright young' personnel. Such an organisation may offer the industry better standing in the workplace and increase motivation and interest in the sector for career progression.

He commended the pig industry for the recently launched Pig Industry Professional Register (PIPR) and its CPD scheme, believing it offered the pig industry professional status and an advantage in recruiting and retaining skilled people.

Axed subsidies
Agriculturalist Torben Kristensen provided an insight into the massive market changes faced by New Zealand farmers when subsidies were axed.

Born in Denmark, he moved to New Zealand and set up Waratah Farms a large mixed farming company with 1750 breeding sows, 900 dairy cows and more than 450 hectares of grass and crops.

"We rely on imports as we are only 42 per cent self-sufficient. We lost major export markets when our subsidies were cut. We have had to learn to react to consumer demands and improve quality throughout the food chain," he said.
Many NZ producers used the opportunity to differentiate and cultivate their own markets. Mr Kristensen business centres on high health status, corn fed pigs that are antibiotics or hormone free. Full traceability and quality assurance are also paramount.

"Like others, to survive we have had to invest in ourselves and be proactive and adding value to our products has become the focus," he said.

He said farmers should not be afraid of the future; good quality food is vitally important. Businesses can survive without subsidies if they attune their production to market demands and use the very best resources and focus on efficiency, he said.

Staffing is a key issue in New Zealand, with many migrant workers, particularly from the Philippines. The employment challenges here were similar to those in the UK agricultural sector.



Further Reading
| | |
| --- | --- |
| | - View/download papers from JSR's 18th Annual Conference by clicking here. |