Schafer named Agriculture Secretary
WASHINGTON - President Bush has nominated Edward Schafer, a former two-term Republican governor from North Dakota, to lead the Agriculture Department.
Schafer, who chose not to run for governor again in North Dakota in 2000, will replace Mike Johanns, who resigned as US agriculture secretary last month to launch a bid for the Nebraska Senate seat being vacated by Republican Chuck Hagel at the end of next year.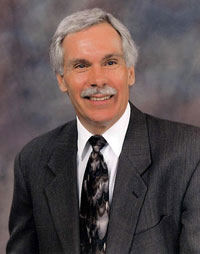 Agric Secretary Edward Schafer, now leads USDA.
Schafer, the grandson of Danish immigrants who farmed throughout their lives, gained extensive agricultural experience while serving as governor, from 1992 to 2000, in a state where nearly 25 percent of its residents work as farmers and ranchers or are employed in farm-related jobs.

Schafer, a businessman with little political experience, ran both of his successful campaigns for governor on themes of job creation and lessening North Dakota's dependence on energy production and agriculture.

He was president of the Gold Seal Co., a household products company founded by his father, Harold Schafer, before the company was sold in 1986.

Schafer later founded Fish 'N Dakota, a fish farming business, which used waste heat from a nearby power plant to raise tilapia. The fish was shipped live to restaurants and other customers.

He was elected to his first term by a margin of 17 percent and was re-elected to a second term four years later, becoming the first Republican governor elected to a second term in North Dakota since the 1950s.

"I realize that the mission of this agency goes far beyond the services delivered to the preservation of a way of life that I believe is the foundation of this country," said Schafer.

Schafer's selection comes at a crucial time for the Agriculture Department, which is closely following - and hoping to influence - congressional negotiations on a new five-year farm bill.

The administration has staunchly opposed congressional efforts to keep current farm programs, including billions of dollars in annual crop subsidies to farmers, in place.

"With Ed's leadership, we will work with Congress to pass a farm bill that provides farmers with a safety net, protects our lands and the environment, and spends federal tax dollars wisely," said President Bush.