New Appointment Supports 'Polish Push'
POLAND - Jacek Gajowczyk, Managing Director of Maxypro Jacek Gajowczyk, a pig production consultant based in the south of Poland, has been appointed as JSR Genetic's main distributor in Poland.
Mr Gajowczyk, a leading figure in the Polish pig industry has been working with the company for the past two years researching and developing the opportunities for JSR Genetics in the region. In his new role, he will be identifying farms suitable for producing high health status breeding stock, specifically locally produced Genepacker 105 parent gilts and imported boars, grandparent gilts and Genepacker 90 parent gilts.

"We are delighted that Jacek has agreed to work with JSR in such a pivotal role and one where his experience will be decisive. The Polish market is expanding rapidly with producers investing heavily in new facilities and top quality genetics,"said JSR Chairman Tim Rymer.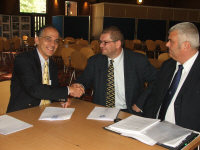 Breaking ground for JSR in Poland. (l-r) Carlos Peralta, Jacek Gajowczyk, Paul Anderson.
Mr Gajowczyk, has extensive experience in the pig industry. He has worked fulfilled numerous roles in the industry including marketing UK pig nutrition products throughout Central and Eastern Europe.

And he relishes the challenge of working with JSR at such an exciting time.

"I have a lifetime's experience of pigs and a wealth of contacts in the Polish sector. Working with JSR gives me the opportunity to put this to best use," he said.

Polish producers are seeking technical development and proven expertise - something JSR says it can fulfil. Polish pork consumption is rising and the opportunities for export into Russia are huge. With new technology, advanced genetics and technical support the Polish industry is well positioned to take advantage of these emerging markets.

Paul Anderson, JSR's European Sales Director, who will be working closely with Mr Gajowczyk said that he is a great addition to the team.

"Jacek's immense knowledge of the Polish market and conditions will be a huge asset to us. It will help the rapid expansion of our presence in the country and in the longer term act as a springboard into neighbouring markets," he added.