Call for Abstracts at APVS Congress 2013
VIET NAM - The Asian Pig Veterinary Society invites submission of abstracts at the 6th APVS Congress, Ho Chi Minh city, Viet Nam on 23 to 25 September 2013. Everyone working in areas related to pig medicine and pig production is encouraged to submit abstracts for oral or poster presentations.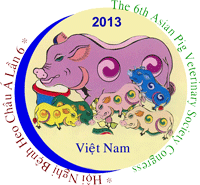 With the theme Productive Pigs – Satisfied Consumers, the conference will highlight recent research and progress in swine production to improve piggery productivity.

Attendees will get to view the presentations and meet other participants interested in a wide range of current topics, such as complex respiratory diseases, gastrointestinal diseases, reproduction and urinary tract disorders, advances in artificial insemination, nutrition and immunity, housing and herd management, farm bio-security, antibiotic usage and resistance, public health and emerging diseases.

Abstracts must be submitted before 31 March 2013 for consideration.