EU Pig Prices: Has the Penny Dropped?
EU - Increasing prices are dominating the European slaughter pig market this week.
It appears that the penny has dropped; with the quantities of live animals being scarcer, the period of stagnation is coming to an ended.

Quotations are going up noticeably with an extra fee of about 2 to 3 cents.

Great Britain is witnessing a significant price increase with a corrected 6.4 cents plus.

The Spanish quotation continues to rank first, getting closer to the limit of €1.80 per kg slaughter weight. Yet, slaughter companies need to struggle intensively to purchase enough pigs.

After the price increase, Germany has been competing with Denmark.

The French market appears to be very balanced. The quotation has gone up only slightly.

Trend for the German market: Presently, the quantities of pigs for slaughter on offer are limited, with the slaughter companies' demand being quite lively. According to several market participants, the meat business is quite satisfying. Producers are somewhat reluctant to deliver pig after the rise in prices.
Week
D
NL
DK
B
F
PL
CZ
IT
ESP
AUT
GB
IR
Week 52
1.626
1.566
1.683
1.581
1.603
1.652
1.753
1.833
1.727
1.540
1.883
1.671
Week 1
1.626
1.557
1.683
1.556
1.603
1.628
1.717
1.835
1.725
1.540
1.886
1.671
Week 2
1.626
1.557
1.683
1.556
1.604
1.609
1.640
1.861
1.725
1.540
1.837
1.671
Week 3
1.596
1.528
1.656
1.532
1.603
1.553
1.617
1.861
1.725
1.520
1.789
1.651
Week 4
1.596
1.528
1.657
1.532
1.580
1.539
1.612
1.892
1.725
1.520
1.724
1.651
Week 5
1.596
1.528
1.629
1.532
1.568
1.564
1.586
1.892
1.725
1.520
1.661
1.642
Week 6
1.596
1.528
1.629
1.532
1.571
1.573
1.899
1.742
1.520
1.596
1.642
Week 7
1.626
1.547
1.629
1.556
1.573
1.899
1.764
1.550
1.660
1.642
Prices in Euros (€)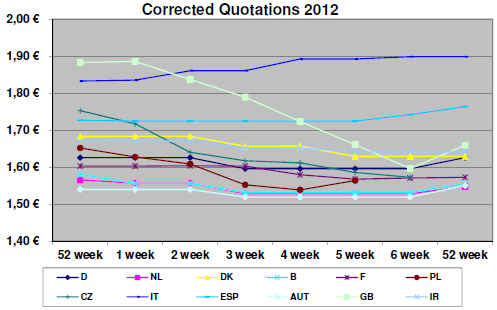 Explanation
1corrected quotation: The official Quotations of the different countries are corrected, so that each quotation has the same base (conditions).
base: 56 per cent lean meat; farm-gate-price; 79 per cent killing out percentage, without value-added-tax (VAT)