Markets Remain Profitable
UK - Although DAPP dropped by 1.31p to stand at 155.99p reflecting sharp falls in shout prices the previous week, contract base prices have remained at similar levels with Tulip standing-on at 153p and the rest following suit with the result that the scoreboard looks exactly the same as last week, writes Peter Crichton.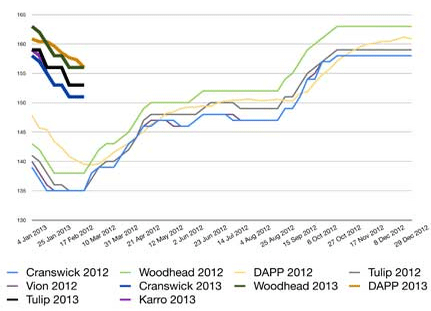 156p Woodhead
153p Tulip and Gill
151p Karro and Cranswick
A chill wind continues to blow through the spot market due to reports of indifferent demand and plenty of meat in the pipeline with the result that spot bacon was traded in the 150p–152p range, but at least there were no reports of significant numbers being rolled.
European pigmeat prices however still seem to be on the rise and this was reflected in the cull sow market where a further 2p–3p was available from the three main players with sows now traded in the 108p–110p region according to spec.
British pig prices have yet to see any real benefit from the horsegate scandal, but beef and chicken prices are reported to be rising, so perhaps we will be next?
Although the euro has had something of a rollercoaster week it traded on Friday worth 86.2p, which is very little difference from its value a week ago.
Reports from Brussels are indicating that European Union pigmeat production will fall by over 3 per cent this year and could work wonders on the price providing this coincides with increased retail demand, which is currently fickle.
Weaner buyers are also more active in the market and although the latest AHDB 30kg ex-farm weaner ha remained static at £46.38/head, spot loads of Freedom Food weaners are achieving useful premiums of £4-£6/head above this.
Feed wheat prices have remained at largely similar levels over the week with LIFFE quotes for March at £204.15/t, July at £207.85/t, and November at £186.25/t. But soya prices have been on the rise in recent weeks and Hi-Pro soya is now quoted at almost £400/t.
No further news has yet been announced for the start date of the Tesco Sustainable Producer Group which buyers and sellers will be watching with interest, especially with current spot and contract prices lagging well behind the Tesco 170p (net) base price before free-farrowing and straw-based finishing premiums.