USMEF Market Expo Wraps up in Peru; Team Moves on to Panama
PERU - The contingent of pork, beef, soybean and corn producers participating in the 2013 USMEF Market Expo concluded its activities in Peru Tuesday, 12 March, and traveled to Panama City on 13 March.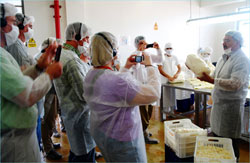 Processing, packaging and distribution of US beef tripe is explained by Carlos Montero, commercial manager for Halema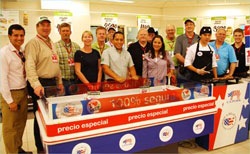 Market Expo participants observe Peru's first-ever retail promotion of US pork in Lima's Tottus supermarkets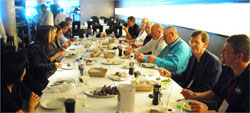 The Market Expo team enjoys US beef at La Bistecca restaurant in Lima, Peru
The Market Expo is a market education program in which agricultural leaders from state and national USMEF member organizations travel to key markets to learn more about foreign marketing activities for US beef and pork.
On Monday the group toured the facilities of Oregon Foods, a Lima-based company that is a major importer and distributor of US beef. Oregon Foods Director Federico Russo explained the attributes of US beef that appeal to his Peruvian foodservice and retail customers and the Market Expo team had the opportunity to observe the company's portion control, packaging, labeling, cold storage and distribution processes.
"It's great to see high-quality US meat being served in Lima restaurants and the growth potential that exists here," said Steve Nelson, a corn and soybean farmer from Axtell, Nebraska, who is president of the Nebraska Farm Bureau. "But it's also gratifying to see the large volume of offal and underutilized cuts being used here, because exporting those products certainly adds significant value to our livestock."
The team enjoyed lunch at La Bistecca restaurant, which exclusively features US beef on its menu and makes tremendous use of underutilized US beef cuts. One of the items served to the Market Expo group was the traditional Peruvian dish anticuchos – grilled slices of US beef heart. They also enjoyed a beef-and-vegetable stew made with US beef knuckle.
One of Tuesday's highlights was a tour of the beef tripe processing plant operated by Halema, which is also a very large importer of US beef. The team observed the tripe processing and packaging methods used by the company and learned about the use of tripe in Peruvian cuisine. Peruvian mining companies make up a large portion of Halema's customer base, using tripe in dishes served in employee cafeterias. Halema also imports US beef hearts, with Commercial Manager Carlos Montero pointing out that the company recently increased its purchases of US hearts since Peru closed to Brazilian beef following the December 2012 announcement of Brazil's first BSE case.
"The business contacts USMEF has developed here in Peru and the relationships it has with key buyers has really been an eye-opener for me," said Jim Stuever of Dexter, Missouri, a corn, soybean, wheat, rice and cotton farmer who represents the Missouri Corn Growers Association. "It really makes me proud to be a part of Missouri Corn and to know that our support of USMEF helps make this possible."
While Peru has been a reliable importer of US beef and beef variety meat for several years (2012 exports to Peru totaled 12,887 metric tons valued $29.7 million), Peruvian imports of US pork are still in their infancy. Pork has not traditionally been a major element of the Peruvian diet, but a growing number of middle class consumers are becoming interested in purchasing higher-quality pork cuts. On Tuesday the team observed Peru's first in-store promotion for US pork, which USMEF South America representative Jessica Julca coordinated with the Tottus supermarket chain.
"The Peruvian image of pork is that it is an item that must be deep-fried," Ms Julca said. "But this is gradually changing as consumers gain exposure to higher-quality pork cuts. Over time, we see growing opportunities for US pork in Peru."
The Market Expo team also received a briefing at the US Embassy in Lima, where staff explained the economic and political climate in Peru. GDP growth in Peru has averaged 6 per cent per year over the past decade, including 6.8 per cent in 2012.
"There is a level of optimism in Peru that I have not seen in 25 years," said Michael Fitzpatrick, the embassy's deputy chief of mission. "In terms of building long-term trade relationships, Peru is an excellent partner."
This came as great news to Joel Thorsrud, a soybean, corn and wheat farmer from Hillsboro, North Dakota, and a member of the United Soybean Board.
"Whenever there's a booming economy, the first thing people want is a better food supply," Mr Thorsrud said. "The way that we are able to help provide that higher-quality food supply is nothing short of amazing to me. Seeing US beef and pork proudly marketed in the supermarkets here and being bought up by customers – that was a great experience."
Agricultural Counselor Emiko Purdy and FAS Senior Agricultural Specialist Gaspar Nolte provided more details on the growth of US agricultural exports to the region they serve, which includes Peru, Ecuador and Bolivia. While Ecuador is a small but growing market for US pork, US beef still does not have access to Ecuador. Lack of access is also a problem in Bolivia, which could offer opportunities for US meat because of its rapidly maturing supermarket sector.
The Market Expo team will be hosted in Panama by Gerardo Rodriguez, USMEF director of trade development for Central America and the Dominican Republic. The team will visit importers, processors and cold storage facilities on Thursday, while also receiving a USDA briefing. On Friday the team will visit local supermarket chains and an airline caterer that utilizes US beef and pork.