CME: August Pork Shipments Lower Than Previous Month
US - After a one-month foray into positive territory, pork exports in August once again fell below the year-earlier level, according to Steve Meyer and Len Steiner.
August shipments of 135,441 metric tons were down slightly from July but were 4.6 per cent lower than one year ago. US pork processors have now shipped 1.09 million metric tons of US pork muscle cuts overseas this year, 8.5 per cent less than one year ago.
The pork exported in August was valued at $427.7 million, 1.1 per cent lower than last year. Obviously, per unit prices for pork exports are higher this year for value to be that close to one year ago at the same time volume is still significantly lower.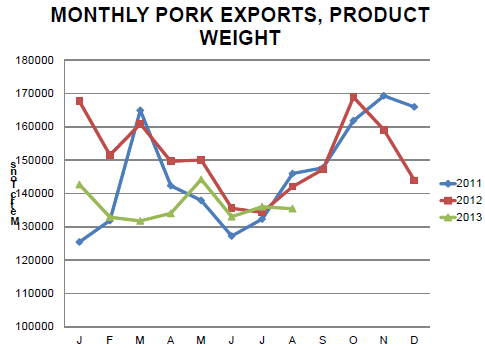 Mexico was the largest destination for pork muscle cuts in August with 36,573 metric tons heading southward. That figure is 2.7 per cent lower than last year. August performance also leaves Mexico as the largest customer for US pork so far in 2013, taking 287,256 metric tons of product, 2 per cent more than in 2012.
Japan was in the number two spot for both August and year-to-date through August but remains far and away the leading value market for US pork. Japan's purchases in August, though only 8.6 per cent smaller than those of Mexico were valued at $151.9 million, 84 per cent more than the value of Mexico's purchases. Those differences, of course, are due to the price sensitivity of the Mexican market and Japan's gate price tariff scheme that forces exporters to ship mainly high-value cuts.
Exports to China/ Hong Kong moved above year-ago levels for the first time this year with August shipments gaining 16 per cent versus 2012. Year-to-date exports to China/Hong Kong still trail the 2012 pace by 24 per cent but recall that the first half of 2012 was impacted by the huge surge in exports to China/Honk Kong that began in 2011.
The August increase continues a pattern of long-term growth for this market that we expect to continue. The real question is whether the Smithfield-Shuanghui deal will change the pace of that growth once it takes effect.