British Sausage Week Started and Finished with Bangers
British Sausage Week Thursday 7th and Friday 8th November Bristol to London
In her final report from British Sausage Week, Clare Holland of BPEX wrote: "Thursday saw the last stop of the tour bus in Bristol at the Clifton Sausage where we were met by 12 eager finalist butchers who were being looked after by our host, Simon." Simon Rimmer is a celebrity chef on the British Sausage Week tour.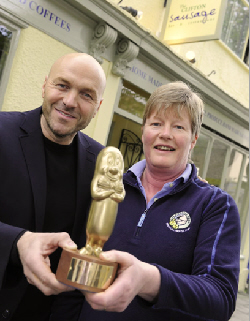 Sally Lugg receives the award on behalf of Primrose Herd Butchers
"Also joining us were Sally Ham and Helen Thatcher from Lips who joined Simon and me for the judging as the chefs already had the cooking of sausages all under control. Just as well really as we had 15 sausages to taste!! That totalled over 70 for Simon and me throughout the week, so we were on the verge of being sausaged out but we put our best forks forward and put the past 55 behind us as if we'd never tasted a sausage this week!
"A really diverse range of flavours greeted us which made the judging a difficult task. However after much deliberation, it came down to a Traditional Breed Pork and Chorizo style sausage versus a Pork and Haggis sausage, and by a unanimous verdict, the Chorizo Style Sausage won, and Primrose Herd Butchers put forward his wife to collect the award from Simon.
Simon gets awarded his own Banger Award!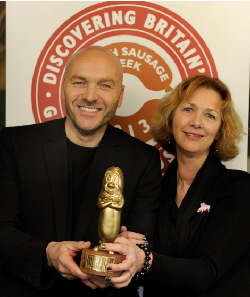 Simon Rimmer is awarded a Sausage Oscar for his services to British Sausage Week
"For his support, dedication and lastability, after awarding all the regional winners with their Banger Awards, Simon Rimmer was awarded with his own award on Thursday, as the Tour came to a close.
"Accepting his award, he said he'd had a great week and would never look at sausages the same way again!," wrote Ms Holland.
Foodiefix
She continued: "BPEX's Tony Goodger was a guest on the Foodie Fix show on Radio Castle station (Norfolk), which is run by the one and only Sausage King, a Sausage lover and promoter of retaining high street shops. In an hour-long show, he covered other sausage-related interviews with Archers Butchers and Simon Rimmer, plus he also covered some highlights from the Tour.
"The Foodie Fix also interviewed our Red Tractor guests at the pop-up shop launch last Friday, he asked Nigel and Georgina to explain more about the Red Tractor scheme and what it means for consumers."
Chris Evans – BBC Radio Two Breakfast Show
"After much comment about him only having raw sausages on Wednesday, a delivery of sausage sandwiches was sent to the programme on Thursday which kept him and his team happy as well as him giving BSW lots of mentions on air," reports Clare Holland.
Weird Sausage Stories of the Week
Interview with a lady who travels 120 miles from Cambridge to buy her favourite sausages from Bowers butchers in Kings Lynn, Norfolk where she goes four or five times a year. She stocks up her freezer until the next time. The butcher claims its being a pork butcher that makes the difference to knowing what should go into and the making of a good quality pork sausage.
One of the winning regional sausages on the Tour was an amazing Pork, Black Pudding & Strawberry Jam flavour combination – definitely worth a try - from Perfick Pork in Norfolk.
The oldest sausage recipe in Cambridgeshire is claimed to be from 1876.