EU Pig Prices: Price Decrease Continues
EU - Even at the beginning of this week of slaughter, the dark clouds haven't withdrawn as yet from the European slaughter pig market.
Again, the German leading quotation turns down all other European quotations; the market participants feel strongly insecure.
In many countries, the missing day of slaughter (1 November) exerted pressure on the quantities on offer. Among the five major European pig-keeping countries, Germany ranks fourth behind France again.
The lowest price decrease was reported from Denmark with its corrected 2.7 cents. Austria was hit by the highest price decrease: a corrected 7.2 cents.
Pig feeders' increased readiness to deliver resulting from the unsettled pig market is followed by an above-average supply which is numbered at more than ten per cent by the Austrian VLV.
A corrected 2.4 cents, the Spanish price decrease is a little higher than it has been over the past two weeks. Exports are difficult, ever more so because the Russian market is not yet accessible again.
Trend for the German market: The slaughter pig market continues to be unsettled. The quantities of pigs for slaughter on offer are substantial and the pig feeders are very more than willing to deliver. According to various marketers, the delivered pigs' slaughter weights are going down. How the prices are going to develop remains an uncertain issue.
Week

D
NL
DK
B
F
PL
CZ
IT
ESP
AUT
GB
IR
Week 37
1.796
1.709
1.751
1.760
1.936
1.815
1.895
2.095
2.016
1.776
2.011
1.622
Week 38
1.696
1.623
1.752
1.655
1.825
1.813
1.888
2.095
1.936
1.673
1.984
1.622
Week 39
1.696
1.623
1.752
1.655
1.825
1.756
1.839
2.095
1.936
1.673
1.984
1.622
Week 40
1.696
1.623
1.724
1.655
1.774
1.746
1.832
2.095
1.888
1.673
1.993
1.622
Week 41
1.696
1.623
1.724
1.655
1.717
1.766
1.843
1.927
1.852
1.673
1.977
1.622
Week 42
1.696
1.633
1.724
1.655
1.673
1,769
1.818
2.816
1.826
1.673
1.960
1.622
Week 43
1.696
1.633
1.724
1.655
1.656
2.816
1.811
1.673
1.981
1.622
Week 44
1.646
1.576
1.724
1.606
1.651
2.753
1.807
1.622
1.988
1.622

Prices in Euros (€)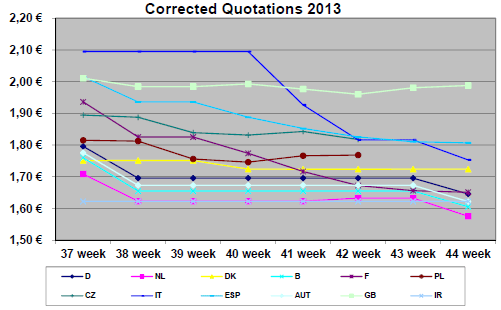 Explanation
1corrected quotation: The official Quotations of the different countries are corrected, so that each quotation has the same base (conditions).
base: 56 per cent lean meat; farm-gate-price; 79 per cent killing out percentage, without value-added-tax (VAT)