Spain: Hog Markets
SPAIN - Spain closed last year with market prices that supposedly would be the lowest in the year, writes Fernando Ortiz, Genesus Ibero-America Business Development.
To get the whole orchestra playing under the same director, grain prices have been showing as well one of their lowest prices at the end of 2013. We would see grain process show a more even behaviour over the last couple of months.
Germany is full of pigs and it is pushing hard to sell them (by reducing its price 3 times in a row), that situation does not help too much to the rest of European countries to improve their market hog prices.
Holidays are over and it is time to make some calculation in the market. There are still a lot of feeder pigs but still the market needs another few weeks to get back on track, however, the price has been not too bad during the first 3 weeks of January. Germany will be the wild card, as usual.
Last year was, in general, a good year for the producer. Better margins compared with the previous year have produced a cautious optimism in the Spanish pork industry. The market is still waiting for some good news in markets like Russia. Everybody knows that Spain, like everybody else, is on a global market state of affairs and it needs to lead with this reality.
As in the rest of the pork world Spain has expectations of better times in 2014. The producers are pushing hard to get better results, more efficiency and higher productivity.
Below is a graph showing live-weight hog prices vs. feed cost during the last year in Spain.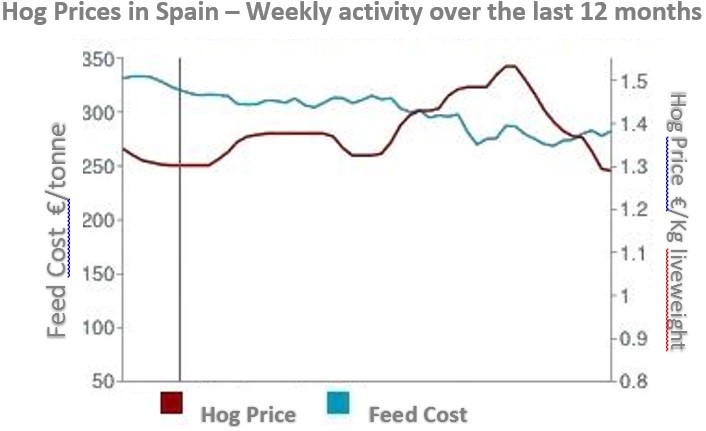 The following is a graphic comparison between USA hog prices and Spain hog prices for 2011, 2012 and 2013 adjusting currencies accordingly for each period of time.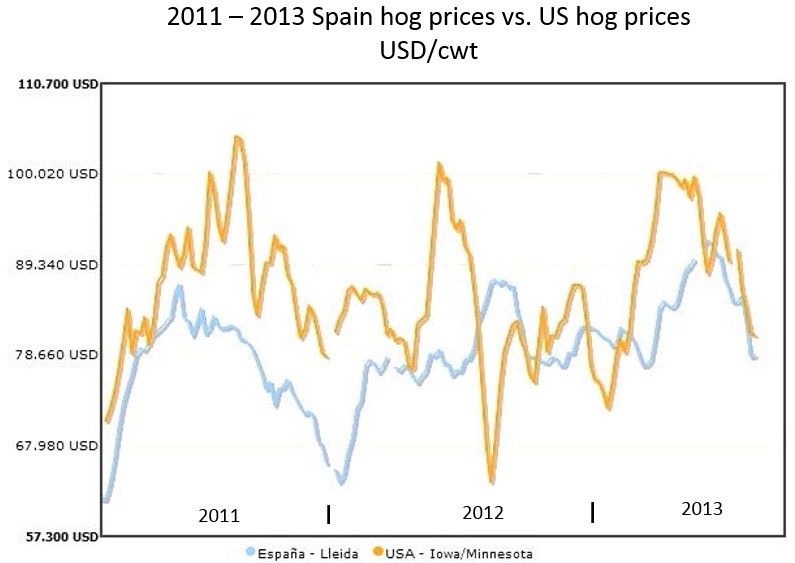 As we mentioned before 2013 has been one of the best year for the pork industry in Spain. Record prices for hogs last summer helped producers massively on recuperating from previous losses.
Prices are now going through seasonal markets but everybody is hammering very hard to make some money in the current quarter by using cheaper grains and hopefully higher demand that drives prices up.