EU Pig Markets Erratic after Russian Pork Ban
EU - EU pig markets remain unsettled with sharp price drops after Russia imposed a ban on all pork imports from the European Union, while German processors are racing to lower quotations.
Even at the beginning of the new week of slaughter, the European slaughter pig market is strongly characterised by the Russian ban on pork imports from the EU. The German slaughter companies announced discounted prices last week already, thus exerting a lot of pressure on the market. For that reason, the quotation went down considerably by a corrected seven cents last Friday. The quotations in the Netherlands, Belgium and Austria were also dragged under in that process. Even in France, they noticed the effects caused by the Russian ban on imports, with the quotation swinging back.
In Spain, the pig price remains steady: steadiness is justified by declining slaughter weights and the lack of pressing supply. At the same time, the Danish group of slaughter companies, Danish Crown, has exerted massive pressure on the German market by announcing its discounted price of €1.48, which clearly undershoots the level of quotation.
Trend for the German market
The market situation is very much affected by the market participants being strongly unsettled at the beginning of the week. Discounted prices being paid partly makes the situation even more insecure. The marketers, for instance, are trying to avoid those slaughter companies paying discounted prices – this mostly succeeds as a result of substandard quantities of pigs mature for slaughter on offer.
Prices in Euros (€)
| Week | D | NL | DK | B | F | PL | CZ | IT | ESP | AUT | GB | IR |
| --- | --- | --- | --- | --- | --- | --- | --- | --- | --- | --- | --- | --- |
| Week 52 | 1.466 | 1.424 | 1.589 | 1.408 | 1.535 | 1.559 | 1.644 | 1.886 | 1.661 | 1.468 | 2.959 | 1.574 |
| Week 1 | 1.466 | 1.424 | 1.599 | 1.408 | 1.499 | 1.549 | 1.592 | 1.886 | 1.661 | 1.468 | 2.932 | 1.536 |
| Week 2 | 1.466 | 1.424 | 1.599 | 1.408 | 1.495 | 1.527 | 1.565 | 1.886 | 1.623 | 1.437 | 2.946 | 1.536 |
| Week 3 | 1.466 | 1.434 | 1.599 | 1.421 | 1.518 | 1.526 | 1.562 | 1.918 | 1.608 | 1.437 | 1.917 | 1.497 |
| Week 4 | 1.496 | 1.453 | 1.572 | 1.458 | 1.543 | 1.545 | 1.530 | 1.918 | 1.608 | 1.468 | 1.886 | 1.497 |
| Week 5 | 1.536 | 1.491 | 1.572 | 1.495 | 1.550 | 1.564 | | 1.918 | 1.613 | 1.509 | 1.833 | 1.497 |
| Week 6 | 1.536 | 1.443 | 1.572 | 1.458 | 1.548 | | | 1.892 | 1.628 | 1.509 | 1.874 | 1.497 |
| Week 7 | 1.466 | 1.405 | 1.572 | 1.421 | 1.496 | | | 1.823 | 1.627 | 1.437 | 1.817 | 1.497 |
Corrected quotations 2013-14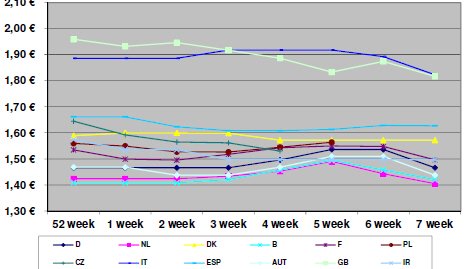 Explanation
1corrected quotation: The official Quotations of the different countries are corrected, so that each quotation has the same base (conditions).
base: 56 per cent lean meat; farm-gate-price; 79 per cent killing out percentage, without value-added-tax (VAT)