EU Pig Prices: Russian Import Ban Leads to Price Pressure
EU - Until the middle of last week, the EU slaughter pig market appeared to be very friendly.
There was brisk demand for the quantities of pigs on offer; fixed prices were expected in many countries.
After two wild boars were found dead in Lithuania all hopes were shattered. Since African swine fever was detected in both pigs, Russia immediately closed borders for all unprocessed pork from the European Union.
With about 25 per cent of all EU exports of pork being delivered to Russia, this immediately affected the market: certain parts in particular such as shoulder or belly, are being put under great pressure.
Accordingly, the slaughter pig quotations in many countries are under pressure. Although unchanged prices were published by the associated producers in Germany, all important slaughter companies took confrontational positions last Friday, announcing discount prices.
While Toennies, Vion, Danish Crown and others lowered their prices on Monday, 3 February 2014, by 5 cents, Westfleisch corrected its new price for "free" pigs by 3 cents.
Finding themselves in the footsteps of German slaughter companies, the Dutch price went down by 5 cents and the Belgium price was down by 4 cents.
Although being very much subject to the ban on exports, Danish Crown has not yet reacted on its domestic market, leaving their prices on last week's level on Thursday.
Russia's behaviour has been criticised by many of the EU member countries. According to EU Health Commissioner Tonio Borg, for instance, such kind of procedure is quite disproportionate.
Many statements report that the ban on imports is taken advantage of for supporting the pig prices inside Russia. Ever since joining the WTO, Russia has been looking for non-tariff trade obstructions for supporting the domestic markets.
Trend for the German market: The authorities are working under high pressure to find a solution to the commercial dispute with Russia, however unsuccessfully so far. The quantities on offer are sold smoothly at mostly reduced prices on the live pig market. So far, no congestion has built up with offers. The hope remains that all the excitement soon fades.
Prices in Euros (€)
| Week | D | NL | DK | B | F | PL | CZ | IT | ESP | AUT | GB | IR |
| --- | --- | --- | --- | --- | --- | --- | --- | --- | --- | --- | --- | --- |
| Week 51 | 1.546 | 1.500 | 1.643 | 1.470 | 1.582 | 1.588 | 1.663 | 1.886 | 1.708 | 1.520 | 2.973 | 1.574 |
| Week 52 | 1.466 | 1.424 | 1.589 | 1.408 | 1.535 | 1.559 | 1.644 | 1.886 | 1.661 | 1.468 | 2.959 | 1.574 |
| Week 1 | 1.466 | 1.424 | 1.599 | 1.408 | 1.499 | 1.549 | 1.592 | 1.886 | 1.661 | 1.468 | 2.932 | 1.536 |
| Week 2 | 1.466 | 1.424 | 1.599 | 1.408 | 1.495 | 1.527 | 1.565 | 1.886 | 1.623 | 1.437 | 2.946 | 1.536 |
| Week 3 | 1.466 | 1.434 | 1.599 | 1.421 | 1.518 | 1.526 | 1.562 | 1.918 | 1.608 | 1.437 | 1.917 | 1.497 |
| Week 4 | 1.496 | 1.453 | 1.572 | 1.458 | 1.543 | 1.545 | 1.530 | 1.918 | 1.608 | 1.468 | 1.886 | 1.497 |
| Week 5 | 1.536 | 1.491 | 1.572 | 1.495 | 1.550 | | | 1.918 | 1.613 | 1.509 | 1.833 | 1.497 |
| Week 6 | 1.536 | 1.443 | 1.572 | 1.458 | 1.548 | | | 1.892 | 1.628 | 1.509 | 1.874 | 1.497 |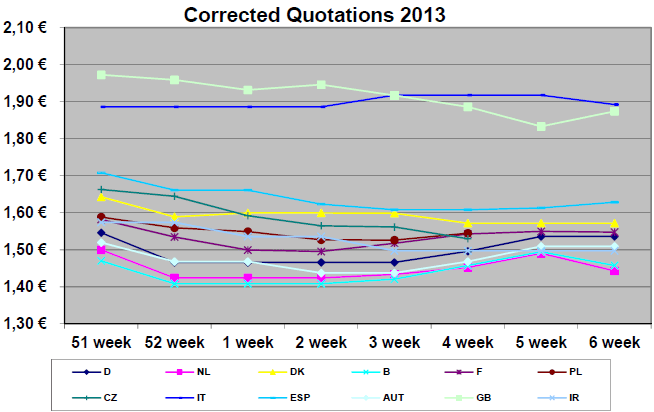 Explanation
1corrected quotation: The official Quotations of the different countries are corrected, so that each quotation has the same base (conditions).
base: 56 per cent lean meat; farm-gate-price; 79 per cent killing out percentage, without value-added-tax (VAT)