CME: January Pork Exports Higher Than a Year Ago
US - Red meat exports were higher in January despite a significant increase in US prices compared to the previous year, according to Steve Meyer and Len Steiner.
Keep in mind, however, that much of the supply shipped in January was contracted in the previous month so we will likely see the full impact of the higher beef and pork prices in the February and March data.
Below are some of the highlights from the January export update:
Pork exports in January were 149,315 MT, 4.7 per cent higher than a year ago. The increase was driven largely by strong exports to Mexico, which accounted for almost a third of all US pork exports.
Total pork shipments to Mexico were 46,139 MT, 11.3 per cent higher than a year ago. US pork exports to Mexico in the last three months have averaged almost 20 per cent higher than the previous year.
With ham prices now above $90/cwt, it remains to be seen how the pace of exports to Mexico will be sustained in the spring and summer.
Pork exports to China/Hong Kong have also improved and at 17,851MT in January they were 35 per cent higher than last year. Exports to China still are much lower than what the were in 2011.
Exports to other Asian markets, such as Taiwan and S. Korea were down in January.
Exports to Canada in January were 15,673 MT, 8.4 per cent lower than a year ago and the lowest monthly volume since June 2011.
US pork exports to the Canadian market have been negatively affected by the weakness in the value of the Canadian dollar even as domestic slaughter tracks well below year ago levels.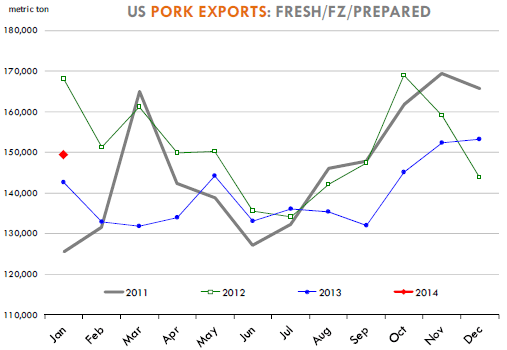 Bottom line: Red meat exports were relatively strong in January but volumes will likely decline in the coming months as tight supplies and high prices take their toll.