CME: North American Hog Breeding Stock Shrinks
US - The main topic of conversation among US and Canadian pork producers at this point is the impact of the Porcine Epidemic Diarrhoea virus (PEDv) on pork supplies, write Steve Meyer and Len Steiner.
Lost in the conversation is a simple reality: the North American hog breeding stock is today much smaller than it was in 2008 (see chart).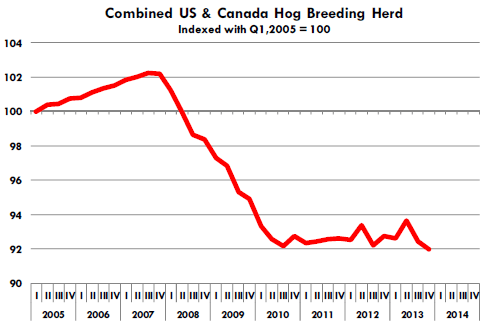 The reasons for the decline are varied: recession, feed costs, exchange rate shifts, etc.
The bottom line is that the North American hog breeding stock at the end of 2013 was under 7 million head (6.972 MM), 0.8 per cent lower than a year ago and 8 per cent smaller than in 2005.
The Canadian breeding stock was up 0.3 per cent from last year but the increase is too small to have a material impact in terms of pork supplies.
So far PEDv loses in Canada have been quite small. The inventory of feeder pigs (under 50 lbs.) was 4.702 million head, up 74,000 head (+1.5 per cent) compared to a year ago.
It is a relatively modest number considering US weekly hog slaughter of +2 MM head.