EU Pig Markets under Pressure; Participants Face Losses
EU - This week, the African swine fever (ASF) situation, together with the Russian ban on imports of pork from the EU, still dictate the market development on the European slaughter pig market.
As a consequence, considerable price decreases were noted in some EU member countries. In Poland, above all, prices are under pressure. The German leading quotation is no longer resistant toward the pressure being exerted by meat processors, going down by an overall 5 cents, followed by the Dutch quotation (minus 3.8 cents). In Belgium as well as in Denmark, the price pendulum has swung back as well.
The Russian ban on EU pork imports cannot be expected to be lifted on short notice, even though Russian meat producers have been complaining about a bottleneck in the supply of raw materials. According to the Dutch Boerderij, the USA will most probably be allowed again to export pork to Russia with effect from 10 March.
However, it should be noted that currently, the relationship between Russia and the United States is severely strained as a result of the Crimea crisis. For instance, a group of Russian veterinary surgeons was disinvited at short notice from negotiations about standards for animal- and plant exports connected with the accession of Kazakhstan to the WTO.
On the Austrian pig market, the situation is extraordinarily steady at the moment. Talk of early deliveries of batches seems to be on the pipeline. From Spain, a steady situation has also been reported. France and Great Britain are yet in a position to record increasing quotations.
Trend for the German market: As for further price developments, market participants are obviously at a loss. Average supply can be marketed promptly, completely and without posing any kind of problem. Altogether, the market situation is well-balanced. So, from the ISN's point of view, no room should be left for further price decreases.
Prices in Euros (€)
| Week | D | NL | DK | B | F | PL | CZ | IT | ESP | AUT | GB | IR |
| --- | --- | --- | --- | --- | --- | --- | --- | --- | --- | --- | --- | --- |
| Week 3 | 1.466 | 1.434 | 1.599 | 1.421 | 1.518 | 1.526 | 1.562 | 1.918 | 1.608 | 1.437 | 1.917 | 1.497 |
| Week 4 | 1.496 | 1.453 | 1.572 | 1.458 | 1.543 | 1.545 | 1.530 | 1.918 | 1.608 | 1.468 | 1.886 | 1.497 |
| Week 5 | 1.536 | 1.491 | 1.572 | 1.495 | 1.550 | 1.564 | 1.548 | 1.918 | 1.613 | 1.509 | 1.833 | 1.497 |
| Week 6 | 1.536 | 1.443 | 1.572 | 1.458 | 1.548 | 1.524 | 1.550 | 1.892 | 1.628 | 1.509 | 1.874 | 1.497 |
| Week 7 | 1.466 | 1.405 | 1.572 | 1.421 | 1.496 | 1.445 | 1.535 | 1.823 | 1.627 | 1.437 | 1.817 | 1.497 |
| Week 8 | 1.446 | 1.377 | 1.531 | 1.408 | 1.446 | 1.397 | 1.522 | 1.823 | 1.594 | 1.437 | 1.841 | 1.497 |
| Week 9 | 1.446 | 1.377 | 1.504 | 1.371 | 1.458 | | 1.525 | 1.772 | 1.592 | 1.437 | 1.814 | 1.440 |
| Week 10 | 1.396 | 1.329 | 1.477 | 1.347 | 1.471 | | | 1.772 | 1.594 | 1.437 | 1.840 | 1.440 |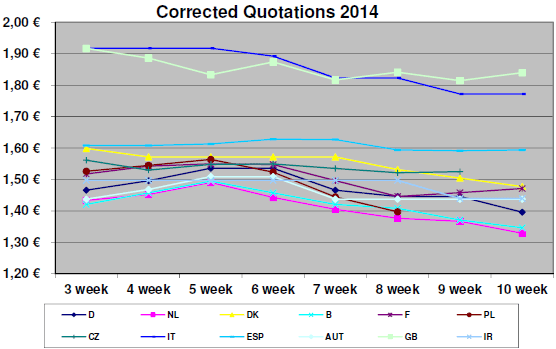 Explanation
1corrected quotation: The official Quotations of the different countries are corrected, so that each quotation has the same base (conditions).
base: 56 per cent lean meat; farm-gate-price; 79 per cent killing out percentage, without value-added-tax (VAT)