EU Pig Price Quotations Bursting
EU - A real price rally has shown showing up at the start of this week on the European slaughter pig market.
In many countries, quotations are leaping upward, thereby making up again for the past weeks' massive price decreases.
Last weekend, the spring-like weather and mild temperatures provided a first impulse for demand for barbecue meat and created the tailwind needed to boost the meat business.
The considerable 13 cents' price increase observed in Germany also gives orientation for other countries. This way, Germany ranks second behind Spain in the European price structure among the five major pig-keeping EU member countries.
The last time a high price increase was realised was in the course of the dioxin crisis at the beginning of 2011. In the light of such price increase, the German slaughter companies are somewhat annoyed; however, due to scarce quantities of live pigs on offer, this does not have negative effects.
As usual, the Dutch quotation followed Germany's, going up by a corrected 12.3 cents. The Belgian quotation went up by 12.4 cents. A big bite out of the cake was taken by Austria with its plus 9.3 cents. The price increases were much more moderate in Denmark and France.
Spain, the current market leader, has reported no price increase or decrease. The country hopes for a positive result succeeding the inspection missions currently undertaken by Russian veterinarians.
Trend for the German market: The quantities of pigs for slaughter on offer are supposed to remain scarce this week. Weather forecasts for the weekend sound quite promising, so one steak or the other will find its way onto the grill. A setback in the starting meat business is not in sight. Price developments are expected to remain firm.
Prices in Euros (€)
| Week | D | NL | DK | B | F | PL | CZ | IT | ESP | AUT | GB | IR |
| --- | --- | --- | --- | --- | --- | --- | --- | --- | --- | --- | --- | --- |
| Week 5 | 1.536 | 1.491 | 1.572 | 1.495 | 1.550 | 1.564 | 1.548 | 1.918 | 1.613 | 1.509 | 1.833 | 1.497 |
| Week 6 | 1.536 | 1.443 | 1.572 | 1.458 | 1.548 | 1.524 | 1.550 | 1.892 | 1.628 | 1.509 | 1.874 | 1.497 |
| Week 7 | 1.466 | 1.405 | 1.572 | 1.421 | 1.496 | 1.445 | 1.535 | 1.823 | 1.627 | 1.437 | 1.817 | 1.497 |
| Week 8 | 1.446 | 1.377 | 1.531 | 1.408 | 1.446 | 1.397 | 1.522 | 1.823 | 1.594 | 1.437 | 1.841 | 1.497 |
| Week 9 | 1.446 | 1.377 | 1.504 | 1.371 | 1.458 | 1.301 | 1.525 | 1.772 | 1.592 | 1.437 | 1.814 | 1.440 |
| Week 10 | 1.396 | 1.329 | 1.477 | 1.347 | 1.471 | 1.355 | 1.517 | 1.772 | 1.594 | 1.437 | 1.840 | 1.440 |
| Week 11 | 1.416 | 1.339 | 1.477 | 1.371 | 1.461 | | 1.494 | 1.747 | 1.594 | 1.437 | 1.893 | 1.440 |
| Week 12 | 1.546 | 1.462 | 1.504 | 1.495 | 1.513 | | | 1.791 | 1.594 | 1.530 | 1.909 | 1.440 |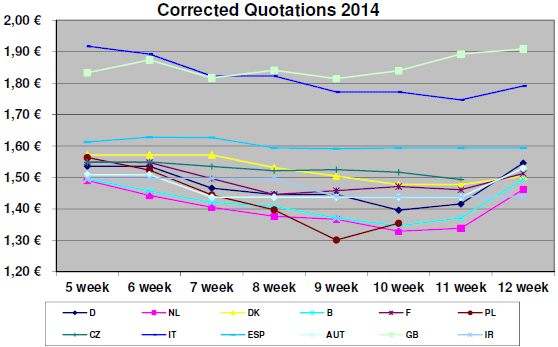 Explanation
1corrected quotation: The official Quotations of the different countries are corrected, so that each quotation has the same base (conditions).
base: 56 per cent lean meat; farm-gate-price; 79 per cent killing out percentage, without value-added-tax (VAT)