Redesigned GC1140 Fully Insulated 360º Gravity Inlet
US - The redesigned GC1140 Attic Vent from Double L Group, Ltd. has a new 360 degree airflow heavy-duty, radius corner design that increases fuel savings, air distribution, and air mixing.
Its redesign has resulted in 12 per cent more cfm for increased airflow (2,048 cfm @ 0.15 static pressure). It also has a larger bottom board than competition, directing air along ceiling with no downdrafts.
The GC1140 housing is now made of Four Point Pivot Reactive Injection Molding (RIM) for added strength and insulation value. Its PVC and stainless steel components will not rust or corrode. Designed for cold climates, the GC1140 has a fully insulated housing that prevents heat loss and has no freeze-up.
Cleaning of each attic vent is crucial to a gravity vent's accurate counterweight performance. Designed with this in mind, the GC1140 has a removable bottom lid with attachable straps for easy cleaning and installation. No bolts or screws to take off or lose.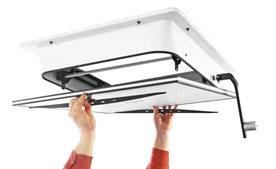 With the tightest seal on the market, the GC1140 also has a new improved seal for increased protection against air leakage when attic air vent is in the closed position.
From ease of installation to performance, the GC1140 Fully Insulated Gravity Inlet continues to be an exceptional hog inlet. The adjustable counterweight allows the GC1140 Inlet to open at different static pressures and the adjustable chain allows for minimizing of vent opening as needed.
As air enters the GC1140 Inlet from the attic when the inlet is open, air is evenly distributed in all 360 directions into the hog building. The mixed, tempered air results in reduced humidity, better air distribution with no dead spots, and even temperatures throughout the room.