Strong Demand for Better Welfare of EU Pigs
EU - Yesterday (24 March), Compassion in World Farming (CIWF) handed in the signatures of an incredible 475,576 concerned EU citizens who have called on the European Commission to ensure laws are enforced to protect pigs.
The signatures will be presented to a broad range of European decision makers including Danish Agriculture Minister Dan Jorgenson, his Slovakian counterpart Lubomír Jahnátek and the Czech deputy Minister of Agriculture Jaroslava Benes Spalkova.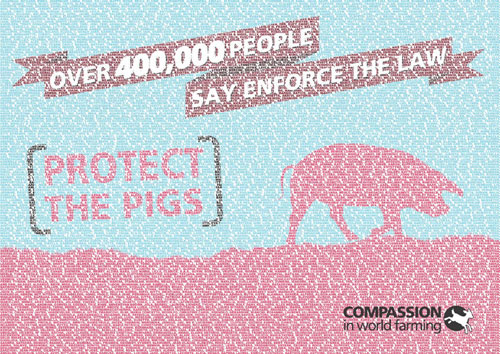 An artwork containing the first name of each person who signed the Pig Petition will be presented to decision makers across Europe.
Throughout March, 'Hope' - CIWF's giant inflatable pig - toured Europe, visiting London, Paris, Rotterdam, Berlin, Warsaw, Prague and Brussels, to bring attention to the plight of pigs in countries where they are suffering in illegal and inhumane conditions.
The EU Pigs Directive requires that pigs be given enrichment materials such as straw. It also bans routine cutting of tails, which is scientifically proven to be unnecessary if the pigs are kept in good welfare conditions, as they are then not driven to bite the tails of other pigs.
CIWF's recent undercover investigations have revealed some of the worst cases of animal cruelty we've ever seen. The organisation's investigations allegedly exposed pigs with their tails illegally docked, living in overcrowded, barren pens; animals covered in their own filth; pigs with abscesses and some even missing eyes.
Dil Peeling, Compassion's Director of Campaigns, said: "Over 475,000 EU citizens are standing up for pigs. The people want laws enforced and pigs protected. The question now is – how can the EU Commission continue to ignore this call for action and integrity.
"The Pigs Directive has stipulated the requirements. All we are asking for is for the law to be enforced."