EU Pig Price Quotations Going up
EU - All in all, the European slaughter pig market appeared to be friendly at the beginning of this week.
The competitiveness of the European pork industry has started counting on export markets, particularly markets in Asia. Prices are boosted by good domestic demand, not least as a result of the first barbecues of the season. The majority of quotations have gone up noticeably.
Out of all countries, the Netherlands currently holds the record for a price increase of 7.5 cents. Over the past weeks, the Dutch quotation remarkably often developed a "life of its own", not always in tune with the German price development.
However, there should not emerge too large a gap between the two countries' price quotations in order to avoid increased movement of Dutch pigs for slaughter toward German slaughter companies. In Germany, slaughter pig prices rose a little slower (plus 6 cents).
The Spanish, French, Belgian and Austrian quotations went up by 4 to 5 cents.
Even after the German day of quoting was rescheduled, the Danish quotation appears unimpressed by the German price development. It remained unchanged on Thursday. Great Britain's prices too remain unchanged.
Trend for the German market: The mood continues to be optimistic on the slaughter pig market. Demand for live pigs remains unbroken, now that only two weeks are left until Easter. The slaughter companies' need is extended and thus, prices are expected to remain unchanged.
Prices in Euros (€)
| Week | D | NL | DK | B | F | PL | CZ | IT | ESP | AUT | GB | IR |
| --- | --- | --- | --- | --- | --- | --- | --- | --- | --- | --- | --- | --- |
| Week 8 | 1.446 | 1.377 | 1.531 | 1.408 | 1.446 | 1.397 | 1.522 | 1.823 | 1.594 | 1.437 | 1.900 | 1.497 |
| Week 9 | 1.446 | 1.367 | 1.504 | 1.371 | 1.458 | 1.301 | 1.525 | 1.772 | 1.592 | 1.437 | 1.850 | 1.459 |
| Week 10 | 1.396 | 1.329 | 1.477 | 1.347 | 1.471 | 1.355 | 1.517 | 1.772 | 1.594 | 1.437 | 1.863 | 1.478 |
| Week 11 | 1.416 | 1.339 | 1.477 | 1.371 | 1.461 | 1.413 | 1.494 | 1.747 | 1.594 | 1.437 | 1.869 | 1.488 |
| Week 12 | 1.546 | 1.462 | 1.504 | 1.495 | 1.513 | 1.515 | 1.483 | 1.791 | 1.594 | 1.530 | 1.874 | 1.507 |
| Week 13 | 1.496 | 1.424 | 1.531 | 1.458 | 1.573 | 1.508 | 1.511 | 1.804 | 1.657 | 1.499 | 1.876 | 1.507 |
| Week 14 | 1.496 | 1.434 | 1.531 | 1.470 | 1.614 | | 1.522 | 1.804 | 1.689 | 1.499 | 1.919 | 1.526 |
| Week 15 | 1.556 | 1.509 | 1.531 | 1.519 | 1.663 | | | 1.804 | 1.740 | 1.540 | 1.932 | 1.536 |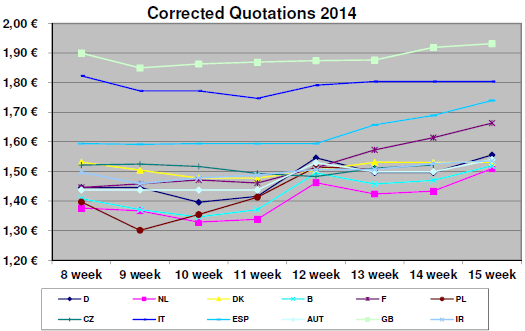 Explanation
1corrected quotation: The official Quotations of the different countries are corrected, so that each quotation has the same base (conditions).
base: 56 per cent lean meat; farm-gate-price; 79 per cent killing out percentage, without value-added-tax (VAT)