Online Chinese Pork Promotion Draws Rave Reviews
CHINA - A recent online promotion for US pork conducted with China's leading business-to-consumer platform, Tmall.com, drew rave reviews from Chinese consumers and strong results for US pork suppliers.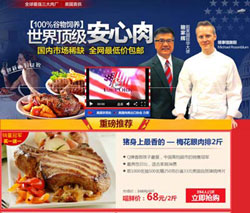 Photo: USMEF
The seven-day promotion, developed with support from the Pork Checkoff, highlighted Tmall.com's nationwide 24- to 48-hour delivery service and gave thousands of Chinese consumers the opportunity to learn about US pork through videos and recipes developed by master chefs, and to order US pork for home delivery.
Within the first five days, the three participating US suppliers had sold nearly 3,000 one-kilo orders (2.2 pounds per kilo) — 6,600 pounds — of US pork. Within five more days, total orders jumped to 7,000. Equally impressive were the consumer reactions posted on the website:
"I got delivery on the next morning. The pork looks red and fresh. The pork tasted very tender and far better than the normal pork. Several minutes later, we finished the pork."
"The delivery was so fast that it was sent to my home the next morning around 9 o'clock. I couldn't wait until dinner, so I had the US pork for lunch. The pork was thin and tender. I finished all the pork very soon."
"The pork looks very fresh – different from the pork on the wet market. I can't wait to put the pork on the electric grill and make barbecue pork. The barbecue pork was very fresh and tender – very good taste."
"The pork is fresh and of good taste. It's a good choice to make barbecue with US pork. I would strongly recommend you taste it."
"This shopping channel creates different buying experiences for consumers," said Joel Haggard, senior vice president for USMEF-Asia-Pacific. "It opens up sales of US pork to the whole of China."
Mr Haggard also noted that the enthusiastic comments made by shoppers serve as a positive reference for US pork, and quick feedback from the first satisfied shoppers likely helped inspire some of the subsequent purchases.
"The expanded brand recognition certainly helps boost the confidence level of retail and food service distributors of US pork," he said. And the convenience of being able to order and ship products online is expected to boost the sales of meat products during the holiday season. Gifts of meat are popular in many Asian countries, including China.
USMEF-China and Tmall.com are exploring additional collaborative efforts. While US pork was the first imported pork to take advantage of the e-commerce channel, competitors from Australia, New Zealand and other markets are also beginning to utilize it for their sales and marketing.
Sales from online shopping in China last year reportedly reached an estimated 1.84 trillion yuan (nearly $296 billion) in gross merchandise value, according to iResearch, an increase of 39.4 per cent over 2012. Tmall.com is the leading business-to-consumer e-commerce platform in China, with more than 50 per cent market share, according to iResearch.
The China/Hong Kong region was the third-largest export market for US pork in 2013, according to USMEF, purchasing 417,306 metric tons (920 million pounds) valued at $903.4 million, an increase of 2 per cent in value on 3 per cent lower volumes versus 2012 levels. In the first two months of 2014 the region has purchased 72,197 metric tons (159 million pounds) of US pork (down 6 per cent) valued at $166.8 million (up 4 per cent).