CME: Pork, Beef Industries Concerned about Demand for Products
US - With recent publication of March slaughter figures and the passing of the end of April — and thus completion of the daily slaughter estimates for the month — it is probably appropriate to give an update of actual slaughter relative to the levels that DLR author Dr Steve Meyer had computed and discussed first in March.
Recall that those figures suggested some very large slaughter reductions this summer and ones that, upon publication of USDA quarterly Hogs and Pigs report on 28 March appeared to be Draconian to say the lease.
The table below shows the year-on-year change estimates that were computed from anecdotal evidence regarding number of sows infected (2.6 million) and pig losses per infected sow (2.7) as of the end of March with those losses distributed monthly across time based on weaned pig PEDv case accessions published by the National Animal Health Laboratory Network.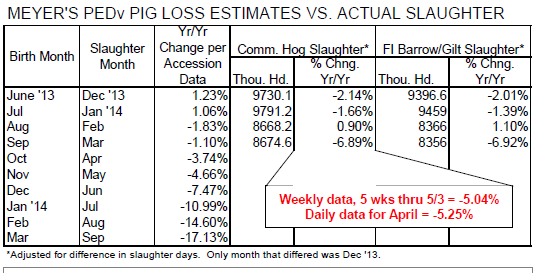 It also shows monthly slaughter data from USDA and year-on-year change for April based on both weekly and daily slaughter data covering the entire month. Actual hog and barrow/gilt slaughter totals have been lower than was predicted by Dr Meyer's calculations in every month except February.
The difference was very large (well over 5 per cent) in March and appears to be well over 1 per cent for April. Recent pullbacks of prices for a variety of pork cuts and for the pork cutout value are being interpreted by some to indicate that summer supplies will not be as tight as once feared.
That may be true but what was once feared was far too extreme and the actual data suggest, at least thus far, that Dr Meyer's concerns about summer supplies are still valid. Due to the nature of the data available, that conclusion could clearly yet change but, at least for now, it is an accurate one and he still expects hog supplies to be quite tight this summer.
Readers should note that Dr Meyer has Q3 slaughter at –9.7 per cent versus one year earlier. That figure is clearly smaller than the ones shown in the table for July through September and represents an intentional nod to USDA's statisticians and their time-proven methods.
Their expertise and track record should not be dismissed even when their conclusions are at odds with other available information, especially when that other information is admittedly so anecdotal.
The beef and pork industries remain concerned about what could happen to demand for their products should chicken prices remain low — or even decline if chicken output rises. As we have argued on many occasions, it is these "relative" prices that impact the demand for a good, not that absolutely level of the good's own price. But will other factors offset any impact of relative prices?