CME: Retail Meat Prices for April Reveal More New Records
US - Thursday's edition of DLR remains germane to the current situation in the beef industry and published reports in "Meat & Poultry" and the "Dodge City Daily Globe" indicate that Cargill is making changes in response to falling cattle numbers by reducing the work force at its Dodge City harvest facility, write Steve Meyer and Len Steiner.
The Daily Globe cited "sources inside the plant" as saying 250-350 employees would be laid off. The plant reportedly employs about 2700 workers at present. The article quotes Cargill spokesman Mark Klein saying "Aligning production with the available supply for harvest will enable the plant to run more efficiently." The story cites another source stating that "the remaining workers will likely se more consistent 40-hour weeks and overtime possibility as the plant keeps its workforce a little tight . . "
Tight cattle supplies have resulted in steer and heifer slaughter (and this is the class of animals processed at Cargill's Dodge City plant) 3.5 per cent lower than in 2013, year to date based on weekly data. Recall that analysts expect the inventory of cattle in feedlots with capacities of 1000 head and over to be close to last year's level in today's Cattle on Feed report from USDA. That would mark three months in a row of close to year-ago inventories after 7 months of sharply lower feedlot numbers that eventually led to the lower slaughter numbers we've seen this year. When these "close to year-ago" feedlot numbers begin to reach market weight in July and August, plants may find it possible to return to more normal operating rates. We think cattle availability issues loom large again next fall and winter, however, as today's tight feeder cattle supplies and almost-certain smaller 2014 calf crop push placements lower again in the late summer and fall.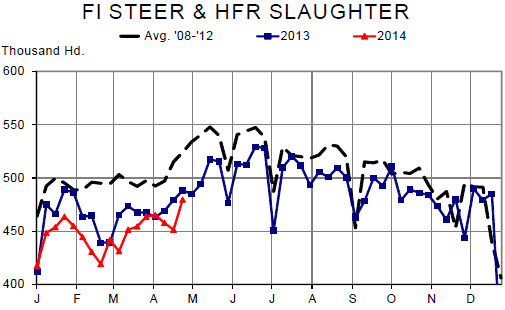 So how are pork plants handling PEDv-shortened hog supplies? The PEDv situation is fundamentally different from the cattle situation. The former is — as of now — a pretty transient situation in which pig numbers are reduced for a period of time before returning to more-or-less normal levels. The period for an individual farm is 3-6 weeks but for any geographic area that must deal with an outbreak, supply reductions may last for a few months depending on the speed at which the virus spreads. We say "more-or-less normal" because some farms get back to 100 per cent of normal output levels quickly and some do not with a few farms dealing with recurring troubles for several months. Packers have thus far not, to our knowledge, laid off workers to deal with PEDv but have shortened operating hours. The new operating level is frequently determined by contractual obligations that require workers to be paid for some minimum number of hours (frequently 32) per week. This strategy keeps a workforce in place to handle the anticipated return to normal operating levels. So, where beef plants are reacting to more long-run supply issues, pork plants are doing their best to handle what they believe is a short-run supply issue. Only time will tell just how short-run it, in fact, is.
USDA's monthly retail meat prices for April showed exactly what we have come to expect: More new records. Both beef prices and pork prices set new record-highs and all were 12-13 per cent higher than one year ago. Choice beef averaged $5.87/retail pound while pork approached $4, hitting $3.95/retail pound. Chicken prices fell by 1 per cent from their March level while turkey prices dropped by 7 per cent.