Positive News about Demand for US Pork
US - Let's all say it together: High retail prices are a sign of strong consumer-level pork demand. Far from "destroying demand," high prices are evidence the consumers are "willing and able to purchase" (the key part of the definition of demand) either the same quantity of pork for more money or, conversely, more pork for the same money. And March was the latest example, writes Steve Meyer, for The National Hog Farmer.
Real per capita expenditures (RPCE) for pork were up $0.23 (2.4 per cent) from February. The March figure of $10.89 was 2.5 per cent higher than one year ago and the highest figure for March since 2003. As can be seen in Figure 1, this year's performance was actually better than is indicated by the 2.5 per cent year-on-year gain because it is being compared to an unusually large figure for last year – one that was driven by U.S. consumers taking more pork when Russia banned imports of U.S. product allegedly over concerns about ractopamine.
Figure 1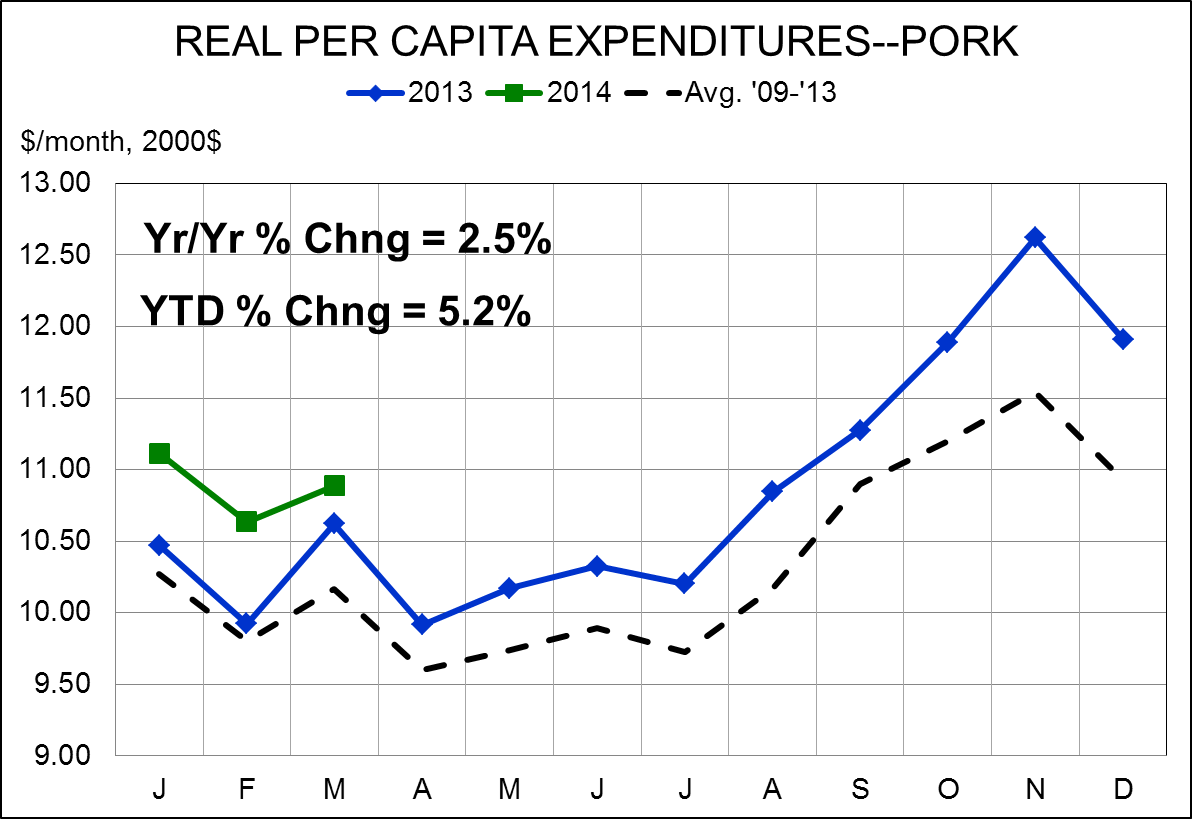 The month's excellent performance brings year-to-date RPCE for pork to $32.64, a figure 5.2 per cent higher than one year ago, and 7.9 per cent higher than the average for March from 2009 through 2013. March marks the thirteenth straight month in which RPCE for pork has exceeded its year-earlier level.
The month's performance was driven by record-high retail prices. The average price of a retail pound of pork hit $3.83 in March, 8.9 per cent higher than one year earlier. Allowing for inflation, the real price gained 7.3 per cent on 2013, an increase that more than offset a 4.5 per cent decline in domestic per capita consumption.
Consumption, of course, is a function of production and net exports, both of which hurt that figure in March. Seven percent lower commercial hog slaughter was only partially offset by a 3 per cent increase in weights that left domestic availability down about 4 per cent from last year. A 0.6 per cent increase in U.S. population further decreased the amount of pork that was available – and thus consumed – per person.
Beef's RPCE was 3.4 per cent higher, year-on-year, in March while chicken enjoyed a very strong gain of 8.2 per cent from 2013. Both of those species went into the month trailing 2013 on a year-to-date basis, but emerged on the plus side – by 0.03 per cent for beef and 0.6 per cent for chicken.
SUBSCRIBE HERE FOR NATIONAL HOG FARMER NEWSLETTERS
Get the latest news right in your inbox!
Total RPCE for the four major meat/poultry species grew by 4 per cent from March 2013 to reach $44.13. That figure brings year-to-date RPCE for all four species to $129.71, up 1.3 per cent from 2013. Pork has been the clear leader in RPCE growth this year, indicating strength in domestic pork demand.
Figure 2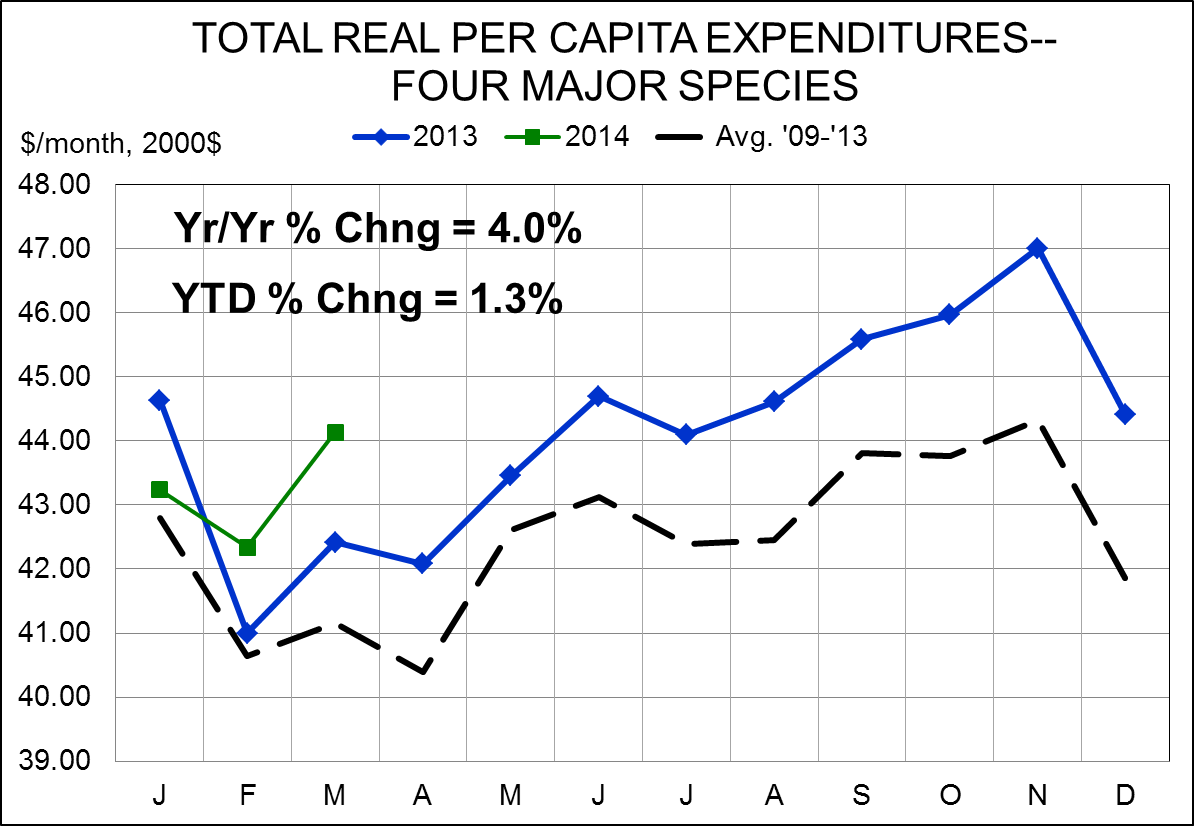 And that is not the end to positive demand news from last week as March exports were surprisingly strong, growing by 21.7 per cent from one year ago. Recall that we are indeed comparing to a bad month last year as it was the first month of the Russian embargo, but the 483.3 million pounds carcass weight shipped in March makes it the largest month for U.S. pork exports since October 2012 (see Figure 3).
Figure 3
Further, the value of March exports was $510.96 million, 24.9 per cent higher than last year, making it the second largest value month ever for U.S. pork exports! March marks just the third time that the industry has ever exported over half a billion – with a "b" – dollars' worth of product in one month. The total value of all U.S. pork exports for the ENTIRE YEAR OF 1993 was just $483.3 million!
How much of that performance was due to the same panic buying that I believe drove U.S. wholesale and hog values in March? A lot, I think, but it is demand nonetheless and we'll take it! Moderating prices should keep buyers interested in U.S. pork and they have few alternatives in world markets.
Japan ended a four-month absence from the top spot of U.S. pork muscle cut market rankings in March. Mexico still ranks second but took 43 per cent more U.S. pork than one year ago and remains the largest muscle cut importer year-to-date. Japan still ranks number one in terms of export value.
China/HK and Other markets remain quite close at numbers 3 and 4 in the market rankings as shipments to China/HK reached their highest level since the back side of the 2011-12 surge that followed severe production losses there. The increase also comes amidst stories of over-production in China, severe losses for producers and government buying programs to reduce "surpluses" in Chinese markets. The only way those actions and surging exports fit together is for the demand for imported product to be strong while the demand for domestic product is weak. Pork from the two sources likely goes to different market segments but could this be another result of China's lax regulatory schemes and Chinese food manufacturers' long litany of food safety problems?
Falling consumer confidence in China's food production systems was one of the factors that, I believe, drove Shuanghui to purchase Smithfield. This apparent contradiction between the markets for domestic and imported pork may be proof that it, in fact, was an important driver.
Figure 4