Swine Virus Seminar includes TVMDL Amarillo
US - On Tuesday, 29 April, the Texas A&M AgriLife Extension Service and the Texas Pork Producers Association hosted a Swine Virus Seminar to educate producers and veterinarians about the Porcine Epidemic Diarrhea Virus (PEDv) threatening the swine industry.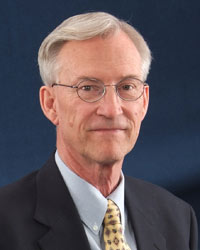 Robert Sprowls, DVM, PhD,
Among those asked to speak on an expert panel were two representatives from the Texas A&M Veterinary Medical Diagnostic Laboratory (TVMDL) in Amarillo: Resident Director Robert Sprowls, DVM, PhD, and Bacteriology and Molecular Diagnostics Section Head Hemant Naikare, DVM, PhD.
Although it is endemic in many countries, the PED virus was only identified in the United States in May 2013. According to the National Pork Board, the virus has killed between 1 and 4 million pigs in the US and has spread to more than 20 states across the country, including Texas. The virus, spread by fecal matter, can be transmitted by pigs as well as by inanimate objects such as boots, clothing and trucks.
The Swine Virus Seminar was held at the Texas A&M AgriLife Research and Extension Center in Amarillo. The AgriLife Extension agriculture and natural resources agent in Potter County, Nathan Carr, coordinated the event. Though geared toward producers in the Texas Panhandle, Dr Sprowls said that he met attendees from south-central Texas, New Mexico and Colorado.
"The seminar was well attended, approximately 145 people, and we were able to hear producer's concerns and also what the swine industry is doing to lessen the impact of this disease," said Dr Sprowls. "There were quite a number of questions that attendees asked a panel, which included Dr Naikare and I, which lasted at least 45 minutes. There was considerable talk about how to manage and minimize the spread of this virus. The conclusion was that with good biosecurity—a word used frequently—the industry might be able to keep it out of most sow herds for a period of time. Biosecurity and testing to confirm whether [a herd has] PEDv or not were major points of discussion."
The seminar included programme topics like "What is PEDv and how to protect your operation," presented by Dr Jodi Sterle, an associate professor from Iowa State University, and "FAQ over PEDv as it relates to feed" presented by Ronny Moser, a JBS/Lindner United representative from Sheridan, Indiana. In addition to the two representatives from TVMDL, the question-and-answer panel included Jeff Thayne, managing director of competitive events for the San Antonio Stock Show and Rodeo, Jay Winters the Texas Swine Health Commissioner, Dr Jimmy Gleason from West Plains Veterinary Clinic in Levelland, and Dr Scanlon Daniels from Circle H Vet Clinic in Dalhart.
"The PEDv seminar was a great opportunity for breeders, vets, show pig enthusiasts and other industry personal to learn more about the virus," said Mr Carr. "The programme was great opportunity to get information and education on the subject to the masses. The PEDv issue is certainly evolving and there is a lot of new information, this programme got some of the newest info out there to programme participants."
Dr Sprowls said that the informative seminar helped producers and industry representatives to get on the same page on how to best manage the industry-wide problem posed by PED viral infection and spread.
"TVMDL [Amarillo] received fecal samples from three large pig shows that tested positive for PEDv," he said. "There was considerable talk about how to manage and handle this virus, and further discussion is needed by the show industry in order to minimize the spread of this virus at stock shows. I was able to provide information about PEDv testing, and also let everyone know that TVMDL testing services are available and intended for utilization by the porcine industry."
In January 2014, TVMDL Amarillo began offering a polymerase chain reaction (PCR) test for the PEDv in fecal samples of scouring pigs. The PCR test is very sensitive and specific and allows the laboratory to quickly detect the virus from feces or intestinal specimens. The test provides a much-needed service to the swine industry as they work to protect their herds from the virus. For more information on PEDv testing, contact the Amarillo laboratory toll free at 1.888.646.5624.
For more information on upcoming Extension events, visit agrilifeextension.tamu.edu. A complete list of tests offered by TVMDL is available at tvmdl.tamu.edu.