EU Pig Price Quotations Increasing
EU - The mood continues to be friendly on the European slaughter pig market at the beginning of this week. After last week's pause for breath, the quotations can now rise again.
On an average, prices are ranging between a corrected Spanish 2.5 cents and Austrian 3.2 cents. Germany had provided the overall orientation last week (Wednesday, 18 June), recording plus 3 cents. Despite the public holiday some German states had on the Feast of Corpus Christi, prices are increasing owing to some kind of market shortage in Germany. The shortfall in supply is also partly attributed to the increased cost to be paid in the Netherlands for dispatch of pigs for slaughter and exports towards Germany.
The price increase was slower in France (a corrected 1.2 cents) than it was in the majority of countries. Word has it that demand was not very profitable due to the end of the month. In France, criticism is currently levelled at how the European Commission is behaving with regard to the Russian ban on pork imports from the EU.
Trend for the German market: The mood continues to be optimistic on the slaughter pig market. The quantities of pigs for slaughter are meeting brisk demand on the part of the slaughter companies. After last week's public holiday and the long weekend following it in some of the German states, batches are being placed in markets at short notice. A friendly market situation is expected as a result of the Internet Pig Auction.
Prices in Euros (€)
| Week | ESP | D | NL | DK | F | B | PL | CZ | IT | AUT | GB | IR |
| --- | --- | --- | --- | --- | --- | --- | --- | --- | --- | --- | --- | --- |
| Week 19 | 1.803 | 1.546 | 1.500 | 1.558 | 1.707 | 1.519 | 1.569 | 1.560 | 1.705 | 1.509 | 1.956 | 1.565 |
| Week 20 | 1.803 | 1.546 | 1.500 | 1.558 | 1.662 | 1.519 | 1.551 | 1.566 | 1.697 | 1.509 | 1.966 | 1.574 |
| Week 21 | 1.798 | 1.546 | 1.500 | 1.558 | 1.621 | 1.519 | 1.556 | 1.575 | 1.725 | 1.509 | 1.960 | 1.574 |
| Week 22 | 1.819 | 1.626 | 1.566 | 1.585 | 1.603 | 1.593 | 1.608 | 1.610 | 1.790 | 1.571 | 1.985 | 1.574 |
| Week 23 | 1.835 | 1.626 | 1.566 | 1.612 | 1.602 | 1.606 | 1.601 | 1.627 | 1.790 | 1.571 | 1.976 | 1.613 |
| Week 24 | 1.863 | 1.656 | 1.595 | 1.612 | 1.616 | 1.630 | 1.648 | 1.664 | 1.800 | 1.602 | 1.996 | 1.622 |
| Week 25 | 1.892 | 1.656 | 1.595 | 1.613 | 1.674 | 1.630 | | 1.679 | 1.824 | 1.602 | 2.026 | 1.632 |
| Week 26 | 1.917 | 1.686 | 1.623 | 1.640 | 1.686 | 1.655 | | | 1.824 | 1.632 | 2.015 | 1.632 |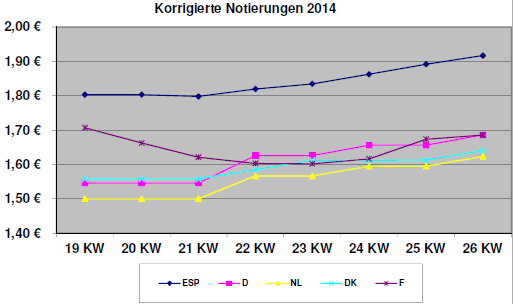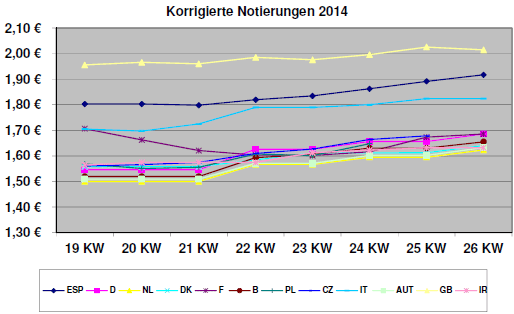 Explanation
1corrected quotation: The official Quotations of the different countries are corrected, so that each quotation has the same base (conditions).
base: 56 per cent lean meat; farm-gate-price; 79 per cent killing out percentage, without value-added-tax (VAT)