EU Pig Prices Increase in the South
EU - The situation is quite calm on the European slaughter pig market, the quotations taking a pause for breath.
Most of the European pig prices moved sideward, thus demonstrating steadiness: in Germany, the Netherlands, Denmark, Belgium and Austria.
It is true that no backlog supply arose from the Whit Monday public holiday and that impetus was given by active barbecuing; yet there was no scope for price increases.
The mood appears to be friendlier in Southern Europe. Reporting on a 3 cents' plus, Spain continues its seasonal price increase, scratching the 1.90 euro mark with its corrected price level of 1.892 euro.
For the first time this year, the temperature went up high which – for seasonal reasons – should soon become obvious in the daily growth.
Due to demand, the French quotation went up noticeably by a corrected 5.8 cents. Thus, the ranking of the five major pig-keeping countries is shifting: France is ranking 2nd, ahead of Denmark now.
Trend for the German market: The domestic slaughter pig market appears cautiously optimistic. A substantial amount of pork was ordered by retail owing to consumers' eager barbecuing. Slaughter pigs sales are running very smoothly. Even gaps are detected in the order books in some regions. At the same time, slaughter companies complain about the meat business being all too calm. Altogether, the prices may be assumed to remain unchanged.
Prices in Euros (€)
| Week | D | NL | DK | B | F | PL | CZ | IT | ESP | AUT | GB | IR |
| --- | --- | --- | --- | --- | --- | --- | --- | --- | --- | --- | --- | --- |
| Week 18 | 1.546 | 1.500 | 1.558 | 1.507 | 1.734 | 1.569 | 1.556 | 1.823 | 1.797 | 1.509 | 1.976 | 1.565 |
| Week 19 | 1.546 | 1.500 | 1.558 | 1.519 | 1.707 | 1.569 | 1.560 | 1.705 | 1.803 | 1.509 | 1.956 | 1.565 |
| Week 20 | 1.546 | 1.500 | 1.558 | 1.519 | 1.662 | 1.551 | 1.566 | 1.697 | 1.803 | 1.509 | 1.966 | 1.574 |
| Week 21 | 1.546 | 1.500 | 1.558 | 1.519 | 1.621 | 1.556 | 1.575 | 1.725 | 1.798 | 1.509 | 1.960 | 1.574 |
| Week 22 | 1.626 | 1.566 | 1.585 | 1.593 | 1.603 | 1.608 | 1.610 | 1.790 | 1.819 | 1.571 | 1.985 | 1.574 |
| Week 23 | 1.626 | 1.566 | 1.612 | 1.606 | 1.602 | 1.601 | 1.627 | 1.790 | 1.835 | 1.571 | 1.976 | 1.613 |
| Week 24 | 1.656 | 1.595 | 1.612 | 1.630 | 1.616 | | 1.664 | 1.800 | 1.863 | 1.602 | 1.996 | 1.622 |
| Week 25 | 1.656 | 1.595 | 1.613 | 1.630 | 1.674 | | | 1.824 | 1.892 | 1.602 | 2.026 | 1.632 |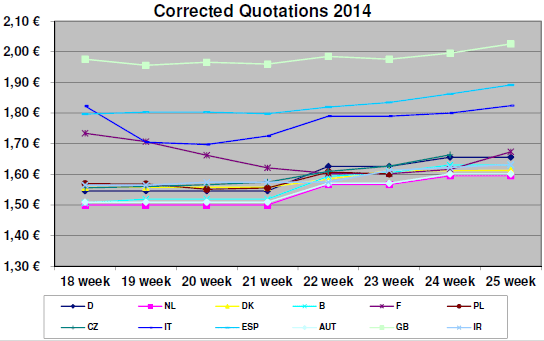 Explanation
1corrected quotation: The official Quotations of the different countries are corrected, so that each quotation has the same base (conditions).
base: 56 per cent lean meat; farm-gate-price; 79 per cent killing out percentage, without value-added-tax (VAT)