EU Pig Prices: Limited Quantities of Live Pigs on Offer
EU - This week, the European pigs slaughter market proves to be inconsistent. Everything like falling via unchanged to increasing prices is part of it.
The past week's extreme price pressure, which had been triggered from Germany in particular, has gone. The overall market situation is stabilising again.
The mood had gone up increasingly in Germany at the beginning of last week as a result of scarce quantities on offer, the quotation went up by 3 cents on Wednesday.
In the maelstrom of the German quotation, Dutch and Belgian prices also went up.
Despite the difficult situation on the meat market, the market situation is improving in Austria. Although Austrian slaughter companies reduced the number of slaughters, word has it that no backlog piled up.
Denmark reported on a well-balanced situation showing unchanged prices, whereas the Spanish quotation was corrected slightly downward. The French producers had to accept a noticeable price decrease with prices going down by a corrected 3.9 cents.
Trend for the German market: The mood continues to be friendly on the pig slaughter market. The scarce quantities of live pigs on offer are predominant which went down as a result of hope arising for price increases.
With the weather being suitable for barbecuing, the meat business is going well. All in all, there is room for price increases with regard to the coming quotation.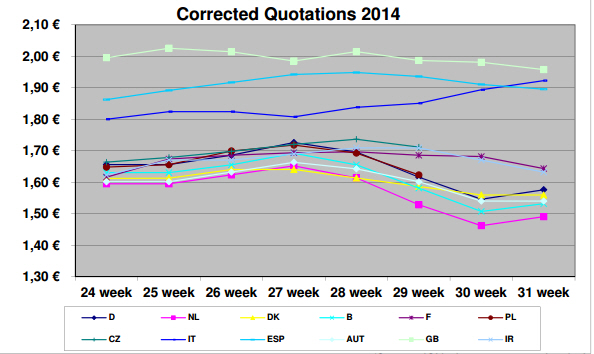 Prices in Euros (€)
| Week | DE | NL | DK | BE | FR | PL | CZ | IT | ES | AT | GB | IR |
| --- | --- | --- | --- | --- | --- | --- | --- | --- | --- | --- | --- | --- |
| Week 24 | 1.656 | 1.595 | 1.612 | 1.630 | 1.616 | 1.648 | 1.664 | 1.800 | 1.863 | 1.602 | 1.996 | 1.622 |
| Week 25 | 1.656 | 1.595 | 1.613 | 1.630 | 1.674 | 1.656 | 1.679 | 1.824 | 1.892 | 1.602 | 2.026 | 1.632 |
| Week 26 | 1.686 | 1.623 | 1.640 | 1.655 | 1.686 | 1.699 | 1.698 | 1.824 | 1.917 | 1.632 | 2.015 | 1.632 |
| Week 27 | 1.726 | 1.652 | 1.640 | 1.692 | 1.694 | 1.718 | 1.720 | 1.808 | 1.942 | 1.663 | 1.985 | 1.632 |
| Week 28 | 1.696 | 1.614 | 1.613 | 1.655 | 1.697 | 1.693 | 1.737 | 1.838 | 1.949 | 1.643 | 2.015 | 1.651 |
| Week 29 | 1.616 | 1.528 | 1.586 | 1.581 | 1.686 | | 1.712 | 1.851 | 1.936 | 1.602 | 1.987 | 1.651 |
| Week 30 | 1.546 | 1.462 | 1.559 | 1.507 | 1.682 | | | 1.894 | 1.911 | 1.540 | 1.981 | 1.613 |
| Week 31 | 1.575 | 1.491 | 1.559 | 1.532 | 1.643 | | | 1.923 | 1.895 | 1.540 | 1.958 | 1.632 |