CME: Hog Slaughter Higher Than Expected
US - Lean hog futures were lower on the 25 September, with most of the losses in Q4 and early 2015 contracts, write Steve Meyer and Len Steiner.
The December 2014 CME lean hog contract declined 160 points, with losses earlier in the day even more substancial.
The decline was somewhat reminiscent of a similar drop the previous Thursday, which was followed by a quick recovery. Market participants remain anxious ahead of the release of the USDA Quarterly Hogs and Pigs report.
While hog supplies in the spot market remain relatively tight, opinions vary greatly about the number of pigs that came to market during the June-August quarter. Analysts on average pegged the June-August pig crop at 97.6 per cent of year ago levels, which implies slaughter levels in late 2014 and early 2015 will remain lower than the previous year.
But there is plenty of risk to this projection considering the improvements in PEDv conditions over the summer months. One of the reasons for the sharp decline in the pig crop in late 2013 and the first half of 2014 was due to the reductions in the number of pigs saved per litter.
According to the USDA survey, pigs per litter declined 5.5 per cent in December-Febuary and then another 4.8 per cent in Mar-May. What will the number be in June-August. If one were to peg a one per cent decline (some residual effect but also recognising the improvement) this would put the number of pigs saved per litter at 10.23.
Farrowings for June-August are on average expected to be about 2.904 million head, up about 0.4 per cent from a year ago. Why higher farrowings given a smaller breeding herd? Well, in part because of the expectation that PEDv conditions have improved enough to allow a return to a more normal farrowing/breeding herd ratio.
Last year, the ratio was about 49.1 per cent (farrowings during June-August / 1 June breeding herd). Using the analyst average of farrowings, we come up with a ratio of 49.6 per cent, which would be similar to what we saw prior to 2013 for this quarter. Adding up the farrowing estimates and the pigs saved per litter gives us a pig crop of about 29.686 million head for June-August, which would only be about 0.6 per cent lower than the previous year.
So why are analysts pegging the pig crop at 2.4 per cent below year ago levels It would seem that they think pig losses continued in June and early July but one can understand why this is a number fraught with risk. According to the University of Minnesota Swine Monitoring Project, the number of PEDv cases as of 1 June was at levels comparable to the previous year and the number of cases has been minimal through the end of August.
Hog slaughter was higher than expected on Tuesday and Wednesday but still we expect weekly slaughter to be down about 4.5 per cent to 5 per cent this week. Slaughter levels will continue to seasonally increase and we could see weekly slaughter approach 2.2 million head by early November.
Add to this the historically heavy hog carcass weights and the pork market will be relatively well supplied in the last two months of the year. In the very short term, hog carcass values have increased, thanks to strong demand for hams and loins, as retailers feature less expensive protein and processors prepare for the holidays. Hams get weaker after mid November, however and retailers will not feature loins all of Q4. Hence the uneasiness about the December contract and early 2015 prices.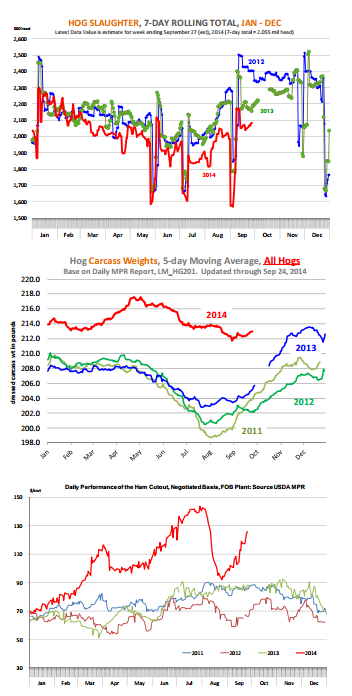 Further Reading
You can view the full report by clicking here.