EU Pig Prices: Continuing to Stabilise
EU - The situation is continuing to stabilise on the European pig slaughter market.
The quantities of pigs for slaughter on offer meanwhile got back to normal again, meeting brisk demand, and backlog supply is no longer talked about.
Last week many quotations were already able to maintain the low level achieved so far. As a result of the well balanced market situation, unchanged prices were reported from Germany, Denmark, Austria and Ireland. Market participants make a much more positive assessment of the situation in the Netherlands and Belgium, because the quotations went up a little.
Thus, the Dutch were able to shorten the distance between their and the German quotations which had become quite large of late.
Southern Europe still tends to weaken, so a slight price decrease must again be recorded by the Spanish and French producers. Spain nonetheless ranks first in the European price structure related to the five major pig-keeping countries. France fell to rank three, now being behind Denmark.
Trend for the German Market:
According to what the marketers are reporting, the current numbers of live pigs for slaughter on offer are declining.The slaughter companies' demand is vivid and placing pigs for slaughter is carried out without problems on the market.
From Poland as well reports on increasing demand are coming in. All in all, the price development is anticipated to remain solid. Tomorrow's internet pig auction results will show whether or not room is left for further gains.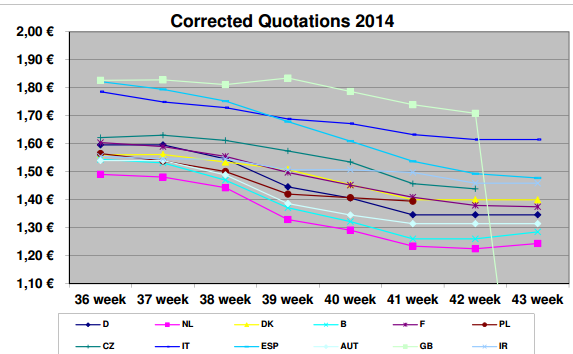 | Week | DE | NL | DK | BE | FR | PL | CZ | IT | ES | AT | GB | IR |
| --- | --- | --- | --- | --- | --- | --- | --- | --- | --- | --- | --- | --- |
| Week 36 | 1.596 | 1.491 | 1.560 | 1.544 | 1.604 | 1.565 | 1.622 | 1.786 | 1.822 | 1.540 | 1.827 | 1.555 |
| Week 37 | 1.596 | 1.481 | 1.562 | 1.532 | 1.590 | 1.539 | 1.631 | 1.749 | 1.794 | 1.540 | 1.828 | 1.545 |
| Week 38 | 1.546 | 1.443 | 1.535 | 1.470 | 1.555 | 1.501 | 1.612 | 1.729 | 1.752 | 1.489 | 1.811 | 1.545 |
| Week 39 | 1.446 | 1.329 | 1.508 | 1.371 | 1.497 | 1.420 | 1.574 | 1.689 | 1.679 | 1.386 | 1.835 | 1.507 |
| Week 40 | 1.406 | 1.291 | 1.454 | 1.322 | 1.452 | 1.407 | 1.535 | 1.672 | 1.609 | 1.345 | 1.787 | 1.507 |
| Week 41 | 1.346 | 1.234 | 1.400 | 1.260 | 1.409 | 1.395 | 1.457 | 1.633 | 1.537 | 1.314 | 1.740 | 1.497 |
| Week 42 | 1.346 | 1.225 | 1.400 | 1.260 | 1.380 | | 1.439 | 1.615 | 1.493 | 1.314 | 1.709 | 1.459 |
| Week 43 | 1.346 | 1.244 | 1.400 | 1.285 | 1.375 | | | 1.615 | 1.478 | 1.314 | | 1.497 |