Lowest October Cold Storage Since 1996
US - The US Department of Agriculture's November Cold Storage report indicated continued tight freezer supplies for all meat and poultry, writes Steve Meyer for The National Hog Farmer.
The 31 October inventory of 1.949 billion pounds of beef, pork, chicken and turkey in US freezers was the lowest October total since 1996, and the first such figure under two billion pounds since 2001.
The figure is 9.8 per cent lower than one year ago (see Figure 2).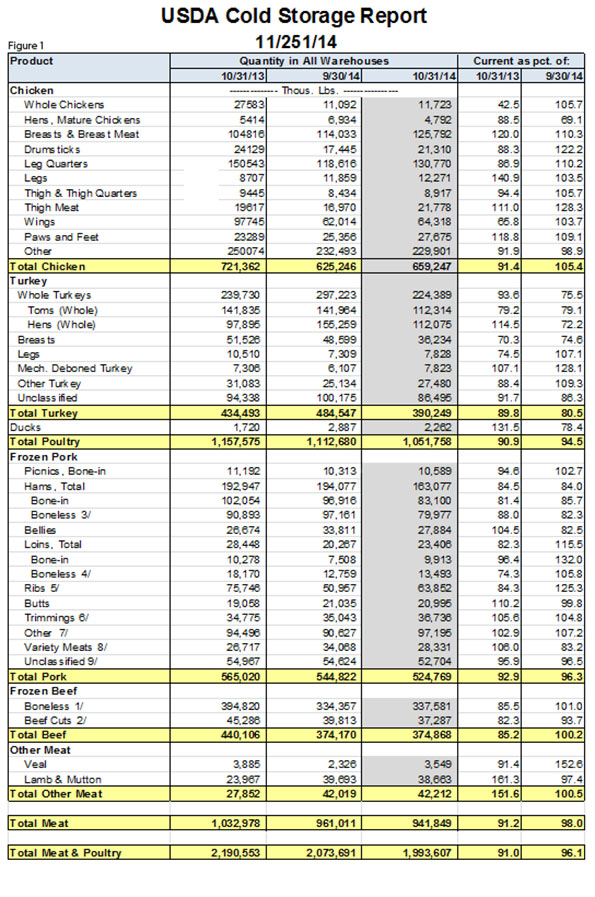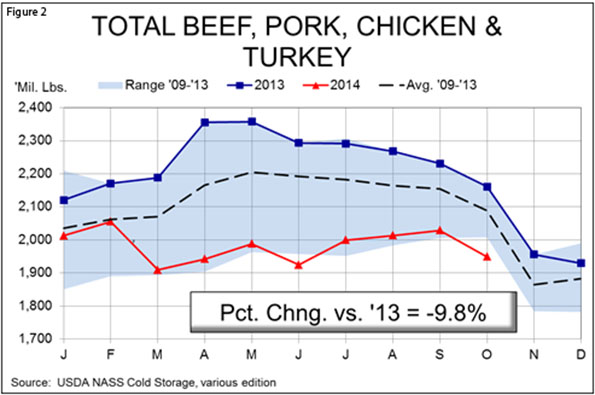 The October draw down of 79.652 million pounds was larger than the five-year average (65.502 million pounds) but was smaller than two of the past three years.
The biggest contributor to October freezer draw downs, of course, is the movement of turkeys to retailers in preparation for the Thanksgiving holiday. Turkey stocks on 31 October were nearly 20 er cent lower than at the end of September.
All of the major species contributed to the reduction versus one year ago.
Beef saw the largest reduction in both quantity (down 65.2 million pounds) and percentage (down 14.2 per cent) versus last year.
Tight fed cattle and cow supplies both contributed to the reduction.
Total frozen pork stocks declined by 7.1 per cent, or 40.3 million pounds, from last year while chicken inventories fell by 8.6 per cent and 62.12 million pounds.
The 524.8 million pounds of pork in freezers at the end of October is the lowest such figure since December 2011.
As can be seen in Figure 3, the reduction in pork stocks is rather unusual as they normally are steady to up-trending given October's larger slaughter runs.
Those runs, which were significantly lower than one year ago but growing during October, were apparently not large enough to support consumers' needs at prevailing prices since product had to be pulled from freezers.
It would be possible for exports to have driven this reduction but I think that is unlikely given anecdotal evidence of slow export trade and the rise of the US dollar.
October export data will be released on 5 December.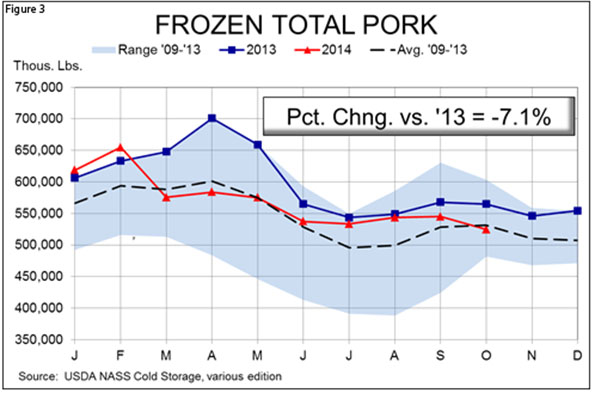 Ham stocks at the end of October were 15.5 er cent lower than one year ago and 16 per cent lower than at the end of September.
Bellies stocks were still higher than one year ago but by only 4.5 per cent (1.2 million pounds) this month.
That is the closest bellies inventories have been to year-ago levels since July 2013. Recall that stocks were very tight that year leading to a spike in bellies prices that, in turn, drove bellies users to build substantial stocks last winter.
Those stocks have kept bellies prices closer to year-ago levels than have been the prices of any other pork cut. The reduction in stocks is good news for bellies prices moving forward.
The number of cattle on feed moved above its year-ago level for the first time in 27 months as of 1 November.
The 10.633 million head in feedlots as of the first of the month is 0.5 per cent larger than last year but still 5.7 per cent smaller than the average 1 November inventory over the period 2009 through 2013.
The increase was driven by higher-than-expected placements. The 2.357 million cattle that entered lots in October were 0.9 per cent lower than last year but analysts had expected placements to fall by just over four per cent, year-on-year.
Placement weights skewed toward the heavy end of the distribution continue to suggest some "bunching" of cattle this winter and into spring but we still expect cattle supplies to be tight relative to history through 2015 and 2016.
Pasture conditions and potential profits are still driving heifer retention and that will keep supplies tight for the foreseeable future.
High beef prices will still provide some opportunities for pork.
Happy Thanksgiving!