Polish Pig Breeding Herd Down on the Year
POLAND - According to provisional figures published by the Central Statistical Office, the Polish pig breeding herd on 1 March 2015 was 4 per cent smaller than a year earlier.
In the last couple of years, the number of sows in Poland appeared to have stabilised, having fallen steadily since EU accession. Therefore, the latest drop may be a first sign that low pig prices are starting to have an impact on EU herds, although African Swine Fever outbreaks may have contributed too.
If this kind of fall is replicated across other member states, it could lead to a tightening of supplies later in the year. The figures suggest that the drop in sow numbers was relatively recent, since piglet numbers were 4 per cent higher than in March 2014, indicating little change in the number of sows which farrowed in early 2015.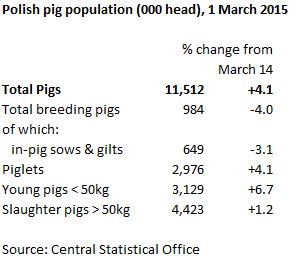 While the breeding herd is declining, the overall Polish pig herd continued to grow, with total pig numbers up 3 per cent on the year.
While this is partly because of the previous stabilisation of the breeding herd, increased imports of live pigs also played a major part. In the 12 months to February 2015, Poland imported over 4.4 million weaners, over 500,000 more than a year earlier.
If anything, the rate of growth increased in early 2015, with shipments up by a quarter in the first two months of the year.