MCOOL, VCOOL: Both Create a Hot Issue
US - Mandatory country-of-origin labeling adversaries continued their tit-for-tat last week as Sen. Debbie Stabenow promoted her proposal to change MCOOL to VCOOL (i.e.: voluntary), writes Steve Meyer in the National Hog Farmer.
Canada's Ag Minister, Gerry Ritz, says such an idea is unacceptable in spite of Canada having a voluntary country-of-origin labeling scheme. The US groups that have opposed MCOOL since the beginning way back in 2002 are equally uncompromising and I don't blame them. There is no reason to back off from any position yet given the ongoing arbitration process that will force no action before late-October.
Canada and Mexico are in the driver's seat after going 4-0 so far in World Trade Organization challenges and appeals. Unless the WTO sends some signal that a voluntary system is acceptable, they can stick to the "Repeal is the only acceptable solution" position. As can US opponents.
The WTO has said many times that origin labeling is an acceptable policy goal. It has only quibbled with the nature of the US system that forces imported animals and products from them to be segregated through a complex transformation process that makes such segregation difficult and expensive. If labeling is itself OK but the process for the mandatory system is not, would simply making it voluntary satisfy the WTO and Stabenow and a few of her colleagues who likely support MCOOL? The latter group has been notably silent so far.
Couldn't someone implement a voluntary country-of-origin labeling program right now without anyone – be that the governments of the United States or Canada or Mexico or even the quasi-government called the WTO – being able to block it? It's voluntary. It will only be done by those who want to do it if they see an opportunity to make it pay.
The question of "Just how voluntary is voluntary?" is legitimate for a "program" that already has pages of government regulations on the books. Does not the existence of those rules and regs make it just too enticing for a self-serving (or even an altruistic) government bureaucrat to push the line of "voluntary" a little bit every year until it isn't voluntary at all?
I do know this: My wife hates snakes. I don't mind them here in Iowa since they are hardly ever venomous and they eat bugs, mice and other things that are more bothersome to me. I argue that they should be spared if at all possible but my wife knows that the only sure way to not be scared by the same snake twice is to kill it. There aren't many snakes around our acreage. Marital harmony is more important than a feeble stand for biological diversity.
We can debate whether my wife's approach would be best for MCOOL but I've never had a return visit from one of those snakes.
Far from running out of pigs
A quick perusal of this week's data tables indicates that we are far from running out of pigs yet.
Last week's US total of 2.137 million was 14.3 per cent larger than last year. Canada's 385,800 was 3.5 per cent higher than one year ago and the US-Canada total was up 12.5 per cent , year-on-year.
US weights continue to reduce production relative to slaughter. The USDA's average live and carcass weight (in the table) suggest the reduction is less than 2 per cent , but the average weight of producer-sold barrows and gilts (which comprise more than 70 per cent of all barrow and gilt slaughter) says the reduction is larger.
Last week's average was 208.3 versus 214.1 one year ago. That's a 2.7 per cent year-on-year decline based on data reported directly to the USDA by the packer every day. The seasonal reduction since May has been close to normal but, as can be seen in Figure 1, it usually bottoms out about this time of year and we expect that will be the case this year barring any unusually hot weather in August.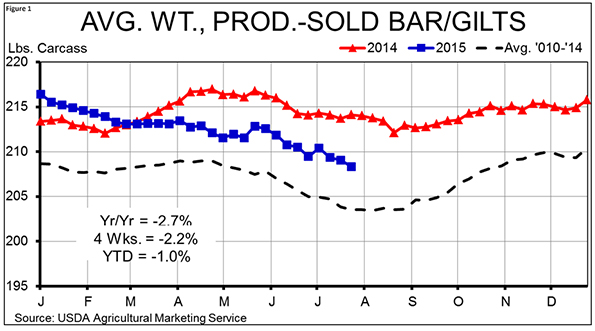 Last fall's seasonal increase was muted because summer weights did not decline much amid all of the effort to fill the porcine epidemic diarrhea virus-induced pork supply hole. A normal seasonal rise this year will put producer-sold barrows and gilts at about 214 pounds come December, just one pound lower than last year.