EU Pig Prices: South Preparing for Holiday Season
EU - The European slaughter pig market continues to be well-balanced this week. Almost all quotations tend to remain constant and steady. The Spanish quotation went up slightly, while the British quotation – which has been corrected to the ISN standard – gave in a little because of fluctuations in the exchange rate.
Almost all European countries report mostly steady demand for meat. The quantities of slaughter pigs on offer are sufficient to cover demand. It has been reported from various sides that the current price level being so high for slaughter pigs is a limiting factor in the meat trade. Therefore, competition remains tough.
Southern Europe is currently preparing for the holiday season, thereby leading to an increase in pork prices. Over the past weeks, Spain has been able, for instance, to already realise moderate price increases. So, Spain ranks first, remaining uncontested within the European price structure of the five EU member countries most well-known for pig keeping.
Trend for the German market:
No changes have occurred at the beginning of this week in relation to the well-balanced ratio between the quantities of live animals on offer and demand from slaughter companies. According to marketers, no change in price-determining factors are to be expected at present. Thus, markets are most likely to remain steady.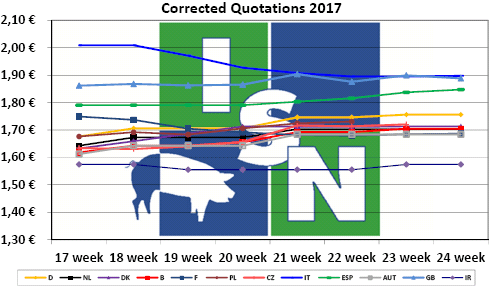 (Source: ISN - Interessengemeinschaft der Schweinehalter Deutschlands)
Explanation
1) corrected quotation: The official Quotations of the different countries are corrected, so that each quotation has the same base (conditions).
2) These quotations are based on the correction formulas applied since 01.08.2010.
base: 57 per cent lean-meat-percentage; farm-gate-price; 79 per cent killing-out-percentage, without value-added-tax