EU Pig Prices: General Drop in Prices; Markets Under Pressure
EU - All across the continent and almost without exception, the European slaughter pig markets are presenting decreasing prices.
For seasonal reasons, the European quantities of slaughter pigs have recently been increasing on a weekly basis, while pork trade continues running at a more leisurely pace. There have been complaints from slaughter companies about sluggish domestic demand and a hesitant export business.
As a result, the quotations are going down all across the board. The price decreases range from a corrected 3.5 cents quoted in France to 10 cents observed in the Netherlands. Because of the severe downward correction in the Netherlands, the Dutch now rank last, even behind France, in the European price structure among the five countries that stand out in pig keeping. The German quotation is now in line with Denmark, with just a very small difference between them.
Even after the latest price decrease by a corrected 6 cents, the Spanish quotation keeps leading the list with its €1.77. Most recently, the quantities on offer were caused to back up by a public holiday in Catalonia. The drop in quotations is being balanced in Great Britain due to currency fluctuations as calculated by the ISN standard.
Trend for the German market:
After the latest decrease of quotations, market participants remain strongly uncertain. The quantities of live animals on offer remain extensive but cannot be sold at short notice for the most part. From today's point of view, the quotation withstanding pressure seems unlikely.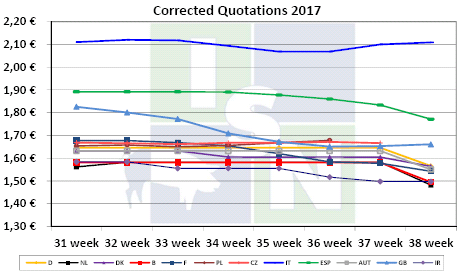 (Source: ISN - Interessengemeinschaft der Schweinehalter Deutschlands)
Explanation
1) corrected quotation: The official Quotations of the different countries are corrected, so that each quotation has the same base (conditions).
2) These quotations are based on the correction formulas applied since 01.08.2010.
base: 57 per cent lean-meat-percentage; farm-gate-price; 79 per cent killing-out-percentage, without value-added-tax