EU Pig Prices: Markets Remain Unchanged; Prices Decrease in South
EU - Compared with last week's reports, the European slaughter pig market has hardly changed. The market situation in majority of the EU member states continues to be stable with unchanged quotations.
The quantities of live animals on offer, which had recently gone up again, is on high demand, causing the situation to be mostly balanced within the European market.
Apart from Germany, unchanged quotations are also reported on from the Netherlands, Denmark, Belgium and Austria. According to reports from the association of Austrian agricultural improvement producers, there is high demand for slaughter pigs in the country.
The slaughter pig prices still are showing signs of weakness in the Southern countries such as Spain, France and in Great Britain. After the very hot summer temperatures in Spain, more live animals are on offer for sale yet again. The seasonal price decrease is continuing. Spanish exporters expect competition in the pork export market to quite severe from the USA.
The French slaughter pigs market appears to be leaning toward the negative side. After the latest price reduction (a corrected 3.6 cents), the corrected quotation meanwhile is amounting to €1.58 per kg slaughter weight. Thus, the French quotation is moving the same way as the Dutch quotation, which has recently shown the red light recently in the European price structure of the five EU member countries that stand out in pig keeping.
Within just seven weeks, the French corrected quotation has gone down by almost 11 cents. A lot of pressure has been exerted for quite some time on meat trade prices. As states a French market participant, ham sales above all are facing a lot of trouble.
Trend for the German market:
The domestic slaughter pig market still appeared well-balanced at the start of this week. The quantities on offer have made swift sales. From the latest point of view, the price development is likely to continue staying steady.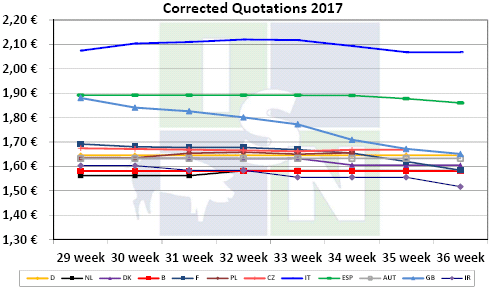 (Source: ISN - Interessengemeinschaft der Schweinehalter Deutschlands)
Explanation
1) corrected quotation: The official Quotations of the different countries are corrected, so that each quotation has the same base (conditions).
2) These quotations are based on the correction formulas applied since 01.08.2010.
base: 57 per cent lean-meat-percentage; farm-gate-price; 79 per cent killing-out-percentage, without value-added-tax