CME: Hog/Pork Industry Continues to Expand; Helps Keep 2018 Pork Price Inflation in Check
US - We think futures may construe the latest "Hogs and Pigs" report as bearish for the short term and neutral for spring/summer of 2018, according to Steiner Consulting Group, DLR Division, Inc.
The headline numbers were exactly the same as analysts had expected. The total inventory of hogs and pigs on 1 September was estimated at 73.549 million head, 2.5 per cent higher than the previous year, the same number as the average of analyst forecasts.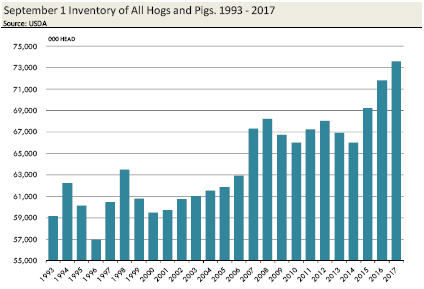 The breeding herd was 6.087 million head, 1.2 per cent higher, also as expected. The fact that the breeding herd was exactly the same as analysts expected is the main reason we think futures will view this report as neutral for spring/summer months.
There were some surprises that futures participants will ponder when futures started trading Friday morning. The inventory of hogs over 120 pounds was quite a bit higher than analysts were expecting but consistent with the large pig crop in Mar- May. These are hogs coming to market in Sep, Oct and early November.
Some of the +180 pound hogs already have come to market and slaughter has been under what the report suggested. The combined inventory of these two weight categories was 3.9 per cent higher than a year ago, implying that we could see weeks between now and November when weekly slaughter exceeds 2.6 million head.
Futures have been pricing a significant premium for the December contract although some of that premium was cut back on Thursday. Based on this report, one would expect that spread to be pressured further.
Hog slaughter was lower than the June report suggested during the summer and market participants will likely ponder whether we will continue to see slaughter under-perform this report in the next two months.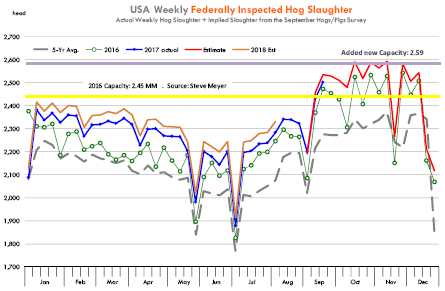 Recently hog slaughter has expanded rapidly but hog weights have been steady as well, implying that producers have been able to market aggressively and thus stay relatively current.
The inventory of lighter pigs was 1.7 to 1.8 per cent higher than a year ago, which is somewhat lower than we would expect considering the pig crop during Jun-Aug was up 2.2 per cent. The report also continued to show larger farrowings (and therefore pig crop) than was suggested by farrowing intentions in previous reports.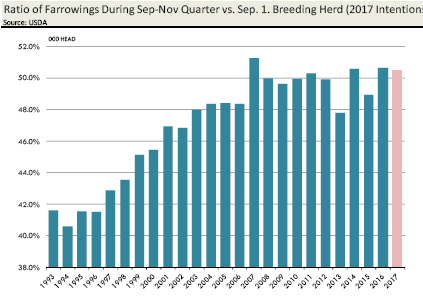 The farrowing intentions for Dec-Feb were +1.3 per cent while analysts were expecting farrowings to be flat. The current farrowing number seems to be in line with what one would expect based on our projections for the breeding herd later in the year.
The breeding herd on 1 September was 6.087 million head, 1.2 per cent larger than the previous year. Looking at starting/ending breeding herd numbers and accounting slaughter/imports during the quarter, it does not appear to us that there was much gilt retention. Last year we saw a notable increase in gilt retention during Sep-Nov and it remains to be seen if something similar happens this year as well.
Takeaway: The hog/pork industry continues to expand and this will help keep pork price inflation in check in 2018. Volatility was quite high in 2017, in part due to export demand but also retail promotions. It is likely this will continue to be the case in 2018 as current market provides retailers with plenty of opportunities to feature pork.
The two new pork plants are slowly ramping up production. As Steve Meyer indicated in a call with reporters, it appears the Sioux City plant will be up and running by the end of November while the Clemens Foods plant in Michigan is not expected to be fully operational until Feb of next year.