Genesus Global Market Report USA - March 2019
Great opportunity to sell cull sows. Butcher prices are awful, however there is a silver lining right now and I want to bring it to your attention.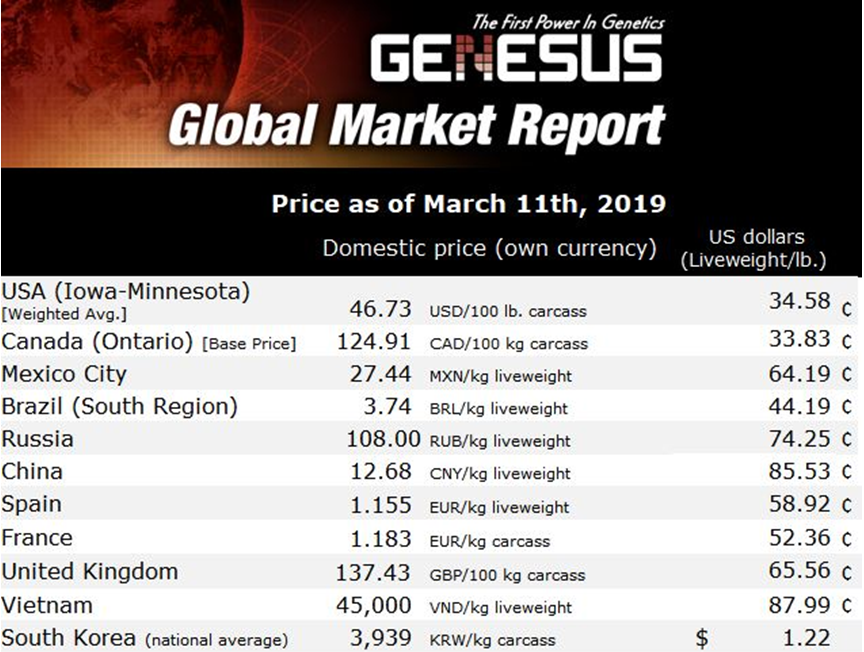 Cull sow prices are about $10.00/ cwt higher than butchers. This is actually a great opportunity to sell cull sows and buy replacement gilts for no cost. This inversion in butcher to sow price never lasts. This time will be no exception. My money is on the butcher price heading higher. Although at these levels that is not a big stretch.
Prestage opened up their new plant and will be ramping up their production to full capacity through this summer.
Trump and China will reach an agreement and China will be a large importer of North American pork. ASF will realistically never be eradicated from China, and we are set to take advantage. The bleeding in this hog market should be close to an end and as we move forward this rise will be a sustained by the ASF situation in China.
I read an article about sow mortality, issues breeding them back and factors behind these. It mentioned a lot of issues caused by prolapse and feed intake, legs, feet and general structure. It did not mention anything about chlamydia and the effects of having a venereal disease present in your sow herd. In other words I think they are saying genetics are a huge factor in sow mortality.
Having animals with a hearty appetite will keep those sows in your herd longer. With this sow to butcher price inversion it is a great opportunity to swap those old sows affected by chlamydia for gilts free of venereal disease and not cost a dime.