The development and impacts of ASF in China
IQC Insights present their first instalment of a project looking at the impacts of African swine fever (ASF) on China's pig industry.
According to the China Animal Health and Epidemiology Center, 111 cases of African swine fever (ASF) had been confirmed in China by 27 February (2019), covering 78 cities across 28 provinces. As shown in the following map, China's provinces can be classified into four groups based on the latest ASF developments in China: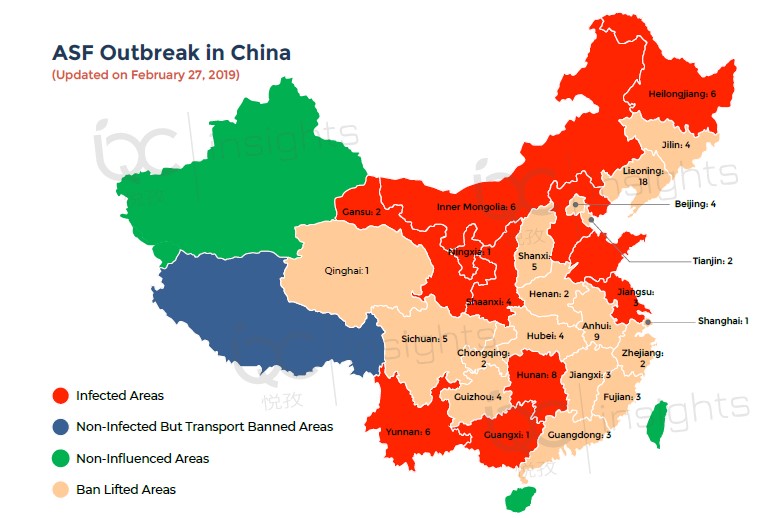 Among these 28 infected provinces, the ban policy in 16 provinces has now been lifted. That means live pigs from these previously infected areas can now be transported to other provinces. However, another unfavourable notice from China's State Post Bureau regulates that no live pigs or pork products shall be posted or received from 2 November, 2018 onward.
As China's farming structure mainly consists of small- and medium-sized pig farms, large-scale farms with more than 3,000 pigs occupy only 18 percent of the total number of confirmed ASF cases in China so far. Another reason for this is that large-scale farms generally adopt more advanced pig rearing technologies equipped with better anti-epidemic measures.
Among the 111 confirmed ASF cases in China, the most important was the 66th case, confirmed 16 November in Jilin Province. It is the first case in China where the ASF virus has been found in wild boar. The Chinese wild boars are mainly centred in the three provinces of Northeast China, Southwest China and South China. The current population of wild boars could be close to one million animals in China.
The full report
If you are interested in the full ASF report, please contact [email protected].

Report index
ASF's impacts on China's pork market:

The domestic pork supply trend.
The domestic sow and live hog inventories.
The domestic farming structure.
The domestic pork consumption and price trend.
The pork import trend by overseas exporters and Chinese provinces.
ASF's impacts on China's major pig-breeding companies.
Forecast for the future.