Global Market Report Mexico - March 2019
Genesus provides a rundown of the situation in the Mexican pork market this month.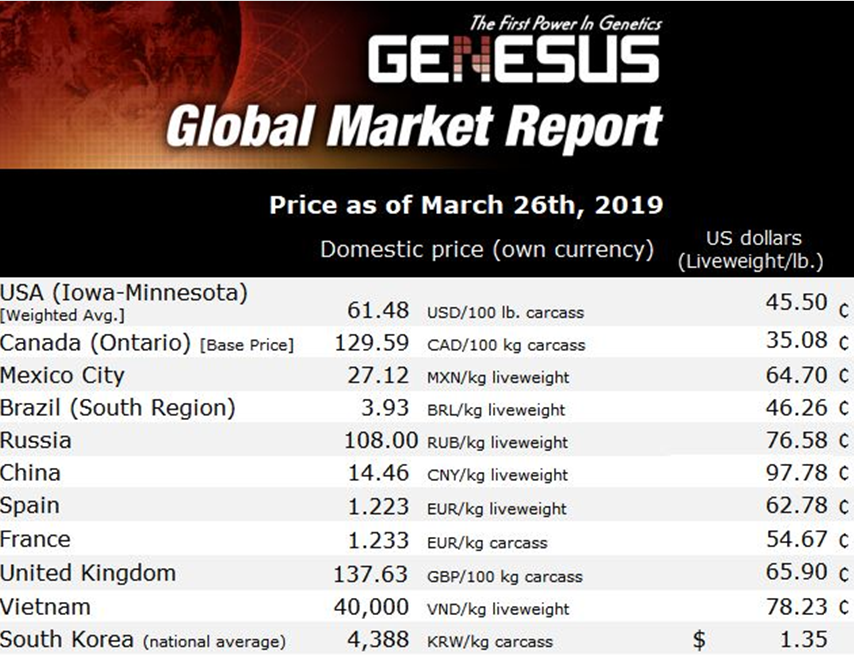 With just over one million sows in production (according to unofficial figures) and a swine inventory of 17.2 million pigs, last year, the Mexican pork industry produced 1,502,000 tonnes of pork, 4.2 percent more than in 2017.
It is important to highlight that almost 70 percent of the pork production was made in only five states: Jalisco, Sonora, Puebla, Yucatan and Veracruz, which together contributed 1,047,349 tonnes last year. The Sonora's pork production, however, was the one that marked a positive expansion of 8.9 percent. Sonora's pig production is leaded by Duroc on its way oriented to the Japanese market.
This year's production has already started with bullish figures, in the first two months of 2019 there have been 254,753 tonnes, 6.8 percent more than the same period of 2018, and 29 percent more than those first two months of 2012.
In 2018 Mexico produced 9,842,234 tonnes of animal protein, 3.3 percent more than in 2017, of which 1.5 million tonnes corresponded to pork, an increase of 4.2 percent with respect to 2017.
Prices on the other hand remain steady, just slightly over 27 pesos per kilo liveweight (64 cents/lb).
☞ FACT: According to statistics from Oporpa, Farms Carroll is the Mexico's largest swine company with over 78,000 sows in production.

Mexico's per capita pork consumption has grown by nearly one-third over the last ten years and now sits at just over 39 pounds. As of 2017, the US held 86 percent market share of total pork and pork variety meat imports in Mexico, followed by Canada (13 percent), and Chile (<1 percent).
However, the US has undoubtedly lost market share in 2018 as a result of retaliatory tariffs imposed on US pork. Trade in US agricultural products to Mexico rapidly expanded as a result of the North American Free Trade Agreement (NAFTA) implemented in 1994. The US Mexico Canada Agreement (USMCA) replaces NAFTA and signifies continued positive trading partnerships with US pork's closest geographical markets.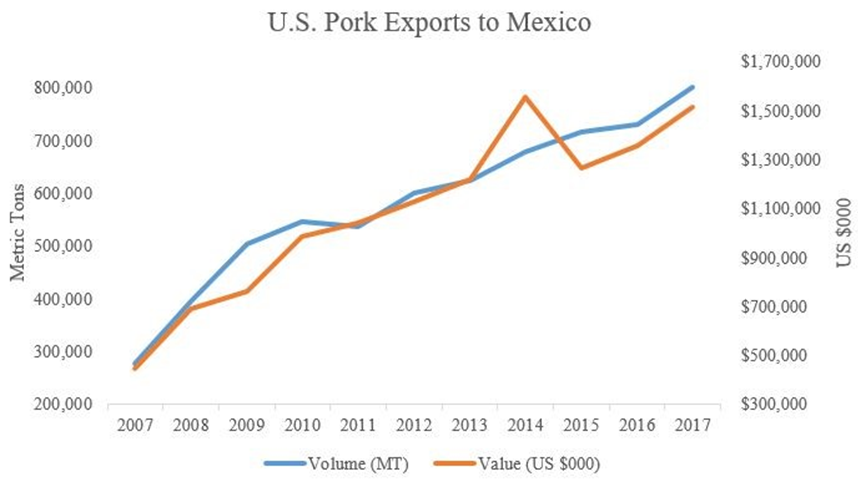 Nonetheless, Mexico exhibits a strong demand for US hams. Indeed, while exports of US pork to Mexico fell just one percent to 717,000 tonnes between January and November 2018, the value of those sales plunged by 11 percent to US $1.2 billion, according to data from the US Department of Agriculture.
Meantime, much of the added demand in the Mexican market was scooped up by Canada. Shipments of Canadian pork to Mexico jumped 22.5 percent to nearly 139,000 tonnes between January and November 2018, according to Statistics Canada, a bump industry analysts attribute to retaliatory tariffs imposed by the Mexican government in response to US levies on steel and aluminium.
The pork sector has seen expansion and vertical integration in recent years with commercial company investment. Domestic production is supported by an increasing demand for animal protein, improved genetics, and increased biosecurity. Rabobank's analysis shows the US pork industry could grow by 11 percent from 2017 to 2025, supported by increased production efficiency and additional processing capacity. These factors have the potential to improve margins along pork supply chains.
Sterling Liddell, Rabobank Research Food & Agribusiness, Global Data Analyst, reported: "Mexico continues to grow its sow inventories and slaughter plants, making it only a matter of time before Mexico boosts domestic production."
The newly revised US Mexico Canada Agreement (USMCA) set to replace NAFTA brings optimism for a restored and unrestricted trading partnership with US pork's largest volume market and second-leading value market.
Meat quality - Mexico, like most advanced countries in pig production in the world, has understood the importance of producing a good meat quality at reasonable prices. Mexico understands that the only way to increase both exports and its domestic pork consumption is by offering pork that has flavour, that tastes and that a competitive cost of production. Therefore, Duroc leads in vast regions of the country as the terminal line. Results show that it takes 50 percent or greater to see this significant meat quality improvement.
Asian markets have already long prized the Duroc for its meat-eating quality. The pigs have a higher level of intramuscular fat which results in a marbling effect. The meat is also darker in colour, lower drip loss and slightly higher pH.
Some European companies have tried to use other rare breed blood lines in their programs but have had no effect on meat quality.
The Duroc was originally bred to capitalise on their productivity of fast growing, vigorous piglets. The resulting pork has superior eating qualities, which is noted to be more succulent in taste panels. Research show that it takes 50 percent or greater of Duroc Genetics to see this significant meat quality improvement in commercial pigs . This means the Registered Pure Duroc is the choice for terminal sire.
Genesus has worked hard on bringing this type of pork to the table with excellent results based on science and research over the last 20 years.