Jim Long Pork Commentary: wild ride market gyration continues
Last Monday, December Lean Hog Futures were 59.72₵ lb. On Friday, 5 days later, they closed at 68.70₵ lb. That's a 9₵ lb. increase or about $20 per head in 5 days.
It's a Wild Ride!
It seems our daily emotions go up and down with the lean hog futures. Since mid April, December lean hog futures have traded up and down in a 30₵ lb. range (89.8-58-77). It's nuts. One day things look good-next day- What the heck?
China
It's all about China!
Daily, we watch the China market price? what are tariffs? How much pork is being exported to China?
This past week the market benefited from some positive talk on USA-China trade negotiations. Also, from the China announcing they would not add more tariffs on US pork.
Pork net sales to China last week of August were 10,880 metric tonnes, the highest since May. (our simple arithmetic: one tonne is 2200 lbs/200 lb carcasses = 11 hogs per tonne meaning 10,880 metric tonnes ~ 120,000 hogs equivalency.)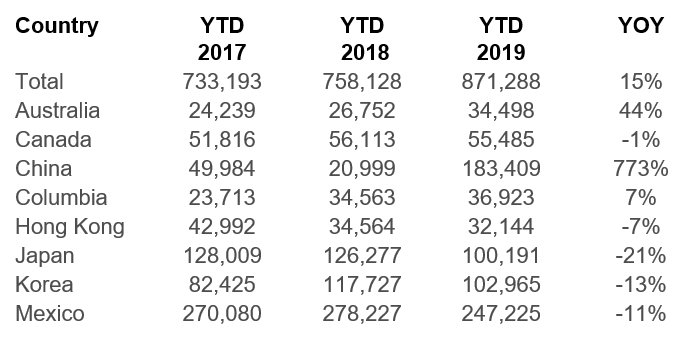 There have been 35 weeks since January 1 to September 5.
China has averaged just over 5,000 tonnes of imports per week from USA since January 1. Going forward that's a number to watch- a bump to 10,000 tonnes per week is doubling sales.
What we need is to send 20,000 tonnes a week (240,000 hog equivalency).
With what is going on in China with total lack of pork supply, it's a reasonable number if tariffs could get lowered.
Last Week:
China Average price 27.62 rmb - $1.76 US lb. liveweight or 270-pound hog = $475 U.S. head.
USA Average Price 53-54 percent lean 58.81 = 202 lb. carcass = 270 liveweight = $118 per head
That's a difference of $357 per head between China-USA last week . With that price spread you'd think there will be lots of buyers wanting Pork in China.
Other China News:
The China Ministry of Agriculture and Rural Affairs monitors 400 counties for pig production. In July the number of pig inventory fell by 9.4 percent month on month from June. Number of sows decreased by 8.9 percent from June.
The sow number decrease would between 2.5 - 3 million sows. The pig inventory down 30 million head approximately. This is in one month! ASF is far from under control in China.
The two largest pig companies in China are Wens and Muyuan. They released their sales for August.
Wens:
1.173 million market hogs sold in August.
A decrease of 34 percent from July. A decrease of 42.68 percent from August last year
Muyuan:
711,000 market hogs sold in August.
An increase 4.6 percent from July, but down 36.86 percent from August a year ago
The numbers from the two largest swine companies in China reflect in our opinion, the reality of China's ASF issue