Rigid extension for pig vaccination
The Swiss made Socorex® syringes with spring-loaded plunger and three-way valve system are designed for precision serial animal injections.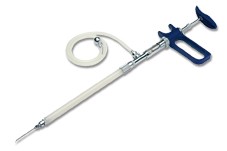 Their simple conception, perfect balance, unsurpassed hand comfort, ease of use and reliable field work are among key characteristics appreciated by professionals for many years.
Available as an accessory, Socorex offers two rigid vaccination extensions of 20 and 30 cm length. Quickly attached to the self-refilling syringe by mean of a Luer Lock connection, both extensions fit all types of Luer Lock needles. Made of robust PVDF, the extensions offer good mechanical stability, thus providing for easy hand movement. The optimized inner tubing diameter reduces dead volume and limits costly injectable product loss.
These Extensions are a great help for farm staff to vaccinate pigs without having to bend down, reaching each animal even if it moves a lot.
For more information, see www.socorex.com or contact our distributors