Sedoline® powder reduces aggression in pigs
Animal welfare is increasingly becoming a major concern in industrially kept pigs worldwide. Several stressors such as re-grouping, social hierarchy, pain and discomfort impact animal welfare. The subsequent aggression, stereotype behaviour or tail and ear biting also have an enormous impact on zootechnical performance. Huvepharma® recently launched Sedoline® Powder to reduce this abnormal behaviour. This unique product combines 5 natural plant extracts.
Aggression in sows
Sows at parturition
Sometimes sows are aggressive against their own piglets during or immediately after farrowing, resulting in wounding or death of their neonatal piglets. Sows with this mothering disability wean almost 2 piglets/litter less.
Sows at mixing
Dominance hierarchy is often established in group housing systems through aggressive interactions among unfamiliar sows. Affected sows demonstrate injuries (lesions on the skin and /or vulva), lameness and a poor body condition by a decrease of feed intake. Typically, the pregnancy rate and number of live born piglets is reduced.
Aggression in weaners and fatteners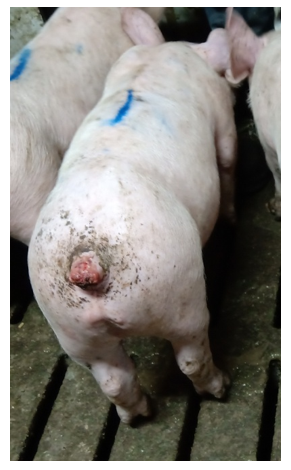 Several predisposing stress factors like re-grouping, high stock density, inappropriate climate, genotype, poor health status and the establishment of social hierarchy induce aggression like fightings, tail and ear biting. The prevalence of tail biting in EU ranges from 3-10%. Tail biting has an important impact on technical performance (growth, feed conversion, mortality, culls), animal welfare (injuries, lameness), carcass quality and antimicrobial use.
Sedoline® Powder
Sedoline® Powder supports animal welfare with natural ingredients by the supplementation of 5 standardized plant extracts: Humulus lupulus (hops), Melissa officinalis, Crataegus monogyna, Valerina officinalis and Passiflora incarnata, which efficacy is documented in several publications. Sedoline® Powder is a complementary feed, available in 1, 5 and 20 kg bags.
Piglets and fattening pigs: 1 kg per tonne feed from at least 2 days before to minimum 2 days after the expected outbreak of aggression.
Sows/gilts: 10 g per 100 kg bodyweight per day from at least 2 days before to minimum 2 days after the expected moment of stress.
Proven efficacy
272 healthy pigs with long, uncut tails and teeth cut on day 1 after birth were allocated in 2 groups of 136 pigs each for a blind test with pelleted feed:

Control group
Sedoline® supplemented group; 1 kg per tonne feed from weaning at day 28 (7-8 kg) till day 70 (25-29 kg)
Each group comprised 8 repeats of 16 to 18 pigs per pen (=0.24 m²/pig).
Weekly assessment by the same person on day 36, 42, 49, 56, 63 and 70 of:

Aggression/ number of fightings by a 15 minutes observation per pen
Tail lesions of every pig

A significant treatment effect was noted on the average

number of fightings per pen (p=0.008)
scores of the tail lesions (p˂0.001)

Conclusion
The natural standardized plant extracts in Sedoline® powder reduce aggression and the severeness of tail lesions in pigs significantly. Consequently, this complementary feed greatly contributes to animal welfare and performance. For more information, please contact Lieven Claerhout, Global Product Manager Swine at lieven.claerhout@huvepharma.com.