Genesus Global Market Report: China, March 2021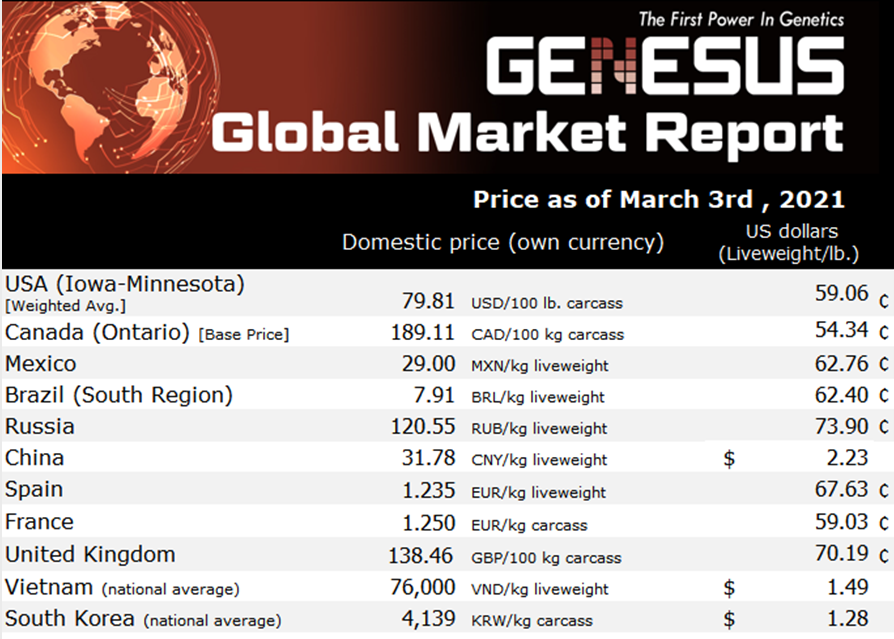 Chinese New Year and the all-important Spring Festival has come and now gone with people slowly returning to work. As is normal during this time of celebration and increased demand, the slaughter pig price trended upward to a high of RMB 36.01/kg ($2.53/lb.) January 20th, and now is trending back downward to RMB 31.78 ($2.24/lb.) as of February 17th as the chart shows below.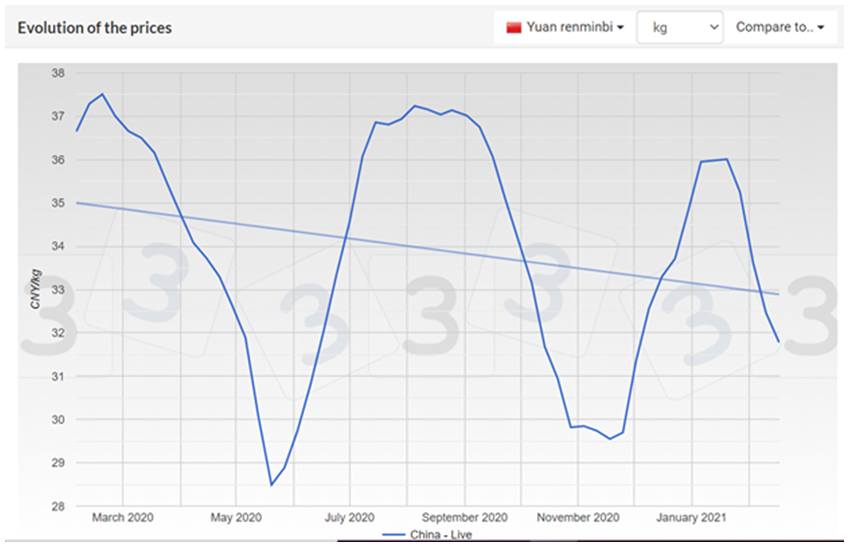 All eyes are upon China and recovery efforts to rebuild its pig production after ASF decimated its breeding herds. High prices have spurred massive investments in the construction of new farms and the restocking of breeding farms. It was reported by the Ministry of Agricultural and Rural Affairs that the sow's inventory reached 41.61 million by the end of 2020 and production capacity 90% of pre-ASF.
However, ASF is still a big concern in the swine industry in China as it is uncertain when an effective vaccine will be available. MARA has reported new outbreaks in Guangdong and Xinjiang provinces since the first of this year. There are other unofficial reports of reoccurring outbreaks and of problems associated with the experimental vaccine.
In addition, it was an unusually cold "La Nina" winter in parts of the country that has exacerbated problems. Last year Chinese officials banned antibiotics in feed which has slowed weight gain and pigs are more susceptible to diarrhea and respiratory diseases during this cold weather. It is uncertain how serious the situation of these challenges nor the effect they may have upon the recovery.
A futures daily report says the sow inventory has fallen in January for the first time in 13 months and sows slaughter is faster than normal due to ASF outbreaks and low productivity. According to a recent swine industry study report, the proportion of low-weight pigs going to market has reached the worst level since November 2019.
Bloomberg reports that as much as 15% of the national hog herd may have been lost to disease over the winter and full recovery to pre-swine fever level likely delayed till the second half of 2022. If it is true and if 15% of the China Sow Inventory (6 million) has been culled, that would be equal to the entire USA production base. Accordingly, one would expect hog prices and imports to decrease as liquidation of sows and light pigs adds more pork short-term.