US pork values remain strong in July 2021
New data from the USDA and US Meat Exporters Federation (USMEF) shows that US pork exports retained their strong values for July 2021.
July pork exports were steady with last year at 221,809 MT, but export value jumped 20% to $657.3 million. Pork variety meat exports were especially strong at 49,092 MT, up 54% from the low total posted a year ago and 16% above July 2019. Variety meat export value was the second highest on record at $116.7 million, up 69% from a year ago and 39% above 2019.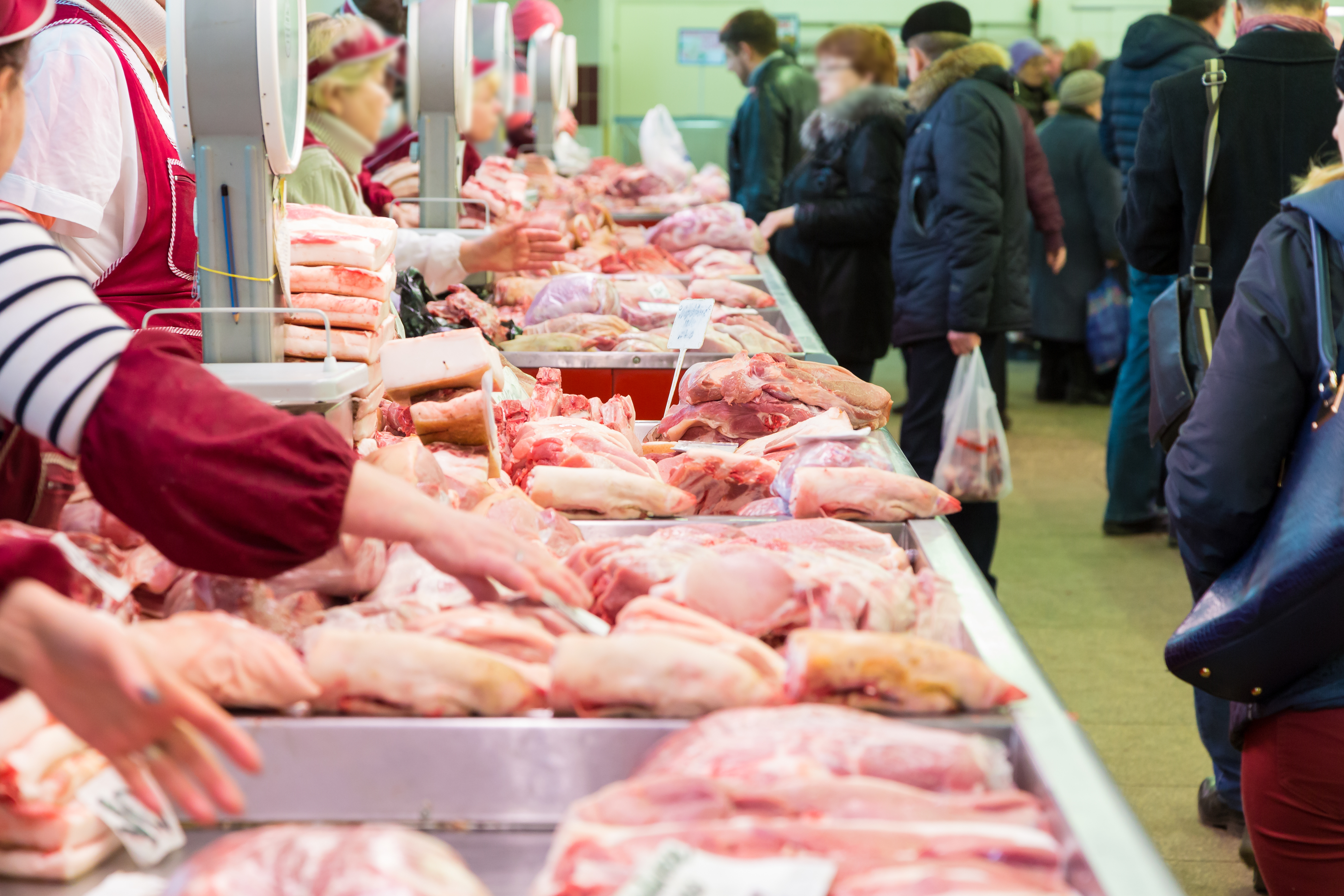 For January through July, pork exports were 1% above last year's record pace at just under 1.8 million MT, while value increased 8% to $4.98 billion.
USMEF President and CEO Dan Halstrom said, "on the pork side, the US industry remained focused on market diversity even when China's import volumes were absolutely off the charts. That philosophy is paying strong dividends now, with exports maintaining a record pace even as muscle cut exports to China trend significantly lower."
Halstrom was especially pleased to see pork variety meat exports bolster the July results, climbing back from a labor-related slump in mid-2020.
"While the tight labor situation is still very much a challenge for exporters, the variety meat capture rate has certainly improved and it is great to see exports exceed pre-COVID levels," he said. "This is especially important because China's demand for pork variety meat remains strong and it is critical that the US industry capitalizes on this opportunity."
Mexico, CAFTA region, Philippines keep pork exports on record pace
While July pork exports to Mexico pulled back from the very large totals posted in May and June, volume still increased 18% from a year ago to 66,442 MT while value soared 81% to $146.5 million. Through July, exports to Mexico were up 22% from a year ago to 462,771 MT, with value up 50% to $936 million. Compared to 2017, the record year for export volume to Mexico, January-July exports were 1% higher in volume and 10% higher in value.
Pork exports to Japan trended higher in July (31,344 MT, up 7%), with value up 8% to $138.3 million. This pushed January-July results 7% ahead of last year's pace at 239,043 MT, valued at just over $1 billion (up 6%). Japan's imports of US chilled pork gained momentum in recent months and were up 6% from a year ago, totaling 124,566 MT through July.
Following a record performance in 2020, pork exports to Central America continue to achieve broad-based growth. July exports totaled 9,196 MT, one-third higher than a year ago, while value increased 64% to $26.8 million. January-July exports were higher to all markets in the region, led by a doubling of exports to El Salvador and very strong increases in Honduras, Guatemala and Costa Rica. Through July, exports were up 47% from a year ago to 76,991 MT, valued at $203.5 million (up 58%).
US pork continues to capitalize on temporary tariff relief in the Philippines, where July exports increased 24% to 5,765 MT, valued at $14.2 million (up 16%). Through July, exports to the Philippines roughly tripled last year's totals in both volume (63,775 MT, up 193%) and value ($166.2 million, up 206%).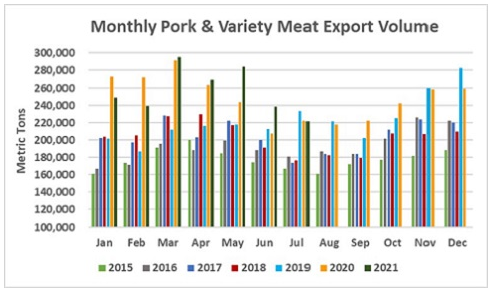 Other January-July highlights for US pork exports include:
Following a difficult year in 2020, pork exports to Colombia continue to trend higher. Though still below the pre-COVID totals of 2019, January-July exports to Colombia increased 50% from a year ago to 54,220 MT, with value up 60% to $126.9 million.
Pork exports to South Korea reached $50.2 million in July, up 80% from a year ago, while volume increased 34% to 13,653 MT. Fueled in part by strong retail demand for chilled pork, January-July exports to Korea increased 6% from a year ago to 109,807 MT, with value up 19% to $351.7 million. Korea's imports of US chilled pork totaled 5,377 MT through July, up 176% from a year ago, with the US capturing 37% of Korea's chilled import market – up from 19% last year.
Demand for US pork continues to soar in the Dominican Republic, where January-July exports climbed 39% from a year ago to 33,382 MT, valued at $83.2 million (up 54%). Exports could further strengthen due to the recent finding of African swine fever in the Dominican Republic, which resulted in significant culling in an effort to contain the disease.
China/Hong Kong remained the largest destination for US pork through July, despite a 22% decline to 525,058 MT. Export value fell 21% to $1.23 billion. While China slipped to the number two destination (behind Mexico) for US pork muscle cuts in the second half of last year, its demand for US pork variety meat remains outstanding. In July, pork variety meat exports to China were the second largest on record and the combined total for China/Hong Kong was fourth highest. Through July, variety meat exports to the region climbed 22% from a year ago to 201,849 MT, valued at $491 million (up 29%).
July pork export value equated to $67.13 per head slaughtered, up 37% from a year ago. Through July, per-head export value averaged $67.05, up 9%. Exports accounted for 30% of total July pork production and 25.2% for muscle cuts, up from 26% and 24%, respectively, in July 2020. Through July, exports accounted for 31.2% of total production (up from 30.7% in 2020) and 27.9% for muscle cuts (up slightly).