Genesus Global Market Report: France, March 2022
As most of the European pig producers, French pig producers are facing low pig prices and feed prices increase for many months. In France, the feed price average for the last ten years was about 250 € per Ton; today the feed price average is around 350 € per Ton. A 100 € difference! It is a huge difference when we know feed represents about 70 % of the production cost.
In January and February, there have been multiple producers demonstrations, especially in Brittany, the main pig production area in France. Pig producers and their partners (cooperatives, suppliers) expected strong support from the French government. In fact, pig producers lose currently about 25-30 € per head.
Beginning of February, the French Minister of Agriculture has announced financial support totaling 270 million Euros. An emergency financial aid of 70 million will be paid very soon and each producer will receive 15 000 €. Some producers have already received this support. It is a good thing, but as one of our customers told us "15 000 € represents only one week of feed supply for my farm".
Culled Sow and Weaned Piglet
Culled sow and weaned piglet prices are often a reflection of the hog market. When producers lose money, they reduce or stop sow production by liquidating sows. At the same time, when the hog market price is good the weaned piglet price is higher because there are empty barns to fill. Let's take a look at these prices over the last 12 months.
The sow liquidation has been massive the last months, with prices at their lowest levels in many years. We know of many French producers who decided to reduce their number of sows or who stopped sow production. Culled sow prices are still at a very low level 0.729 € /kg carcass compare to 0,790 € one year ago and 1,302 € two years ago.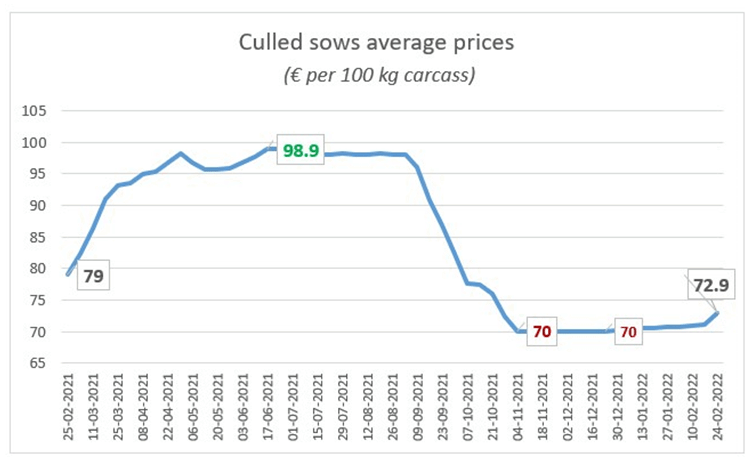 The 8 kg weaned piglet average price was 16,15 € per head in 18th February market, with more piglets sold, after has been at its lowest level on 17th December (13.96 € per head). Maybe, the beginning of a price recovery?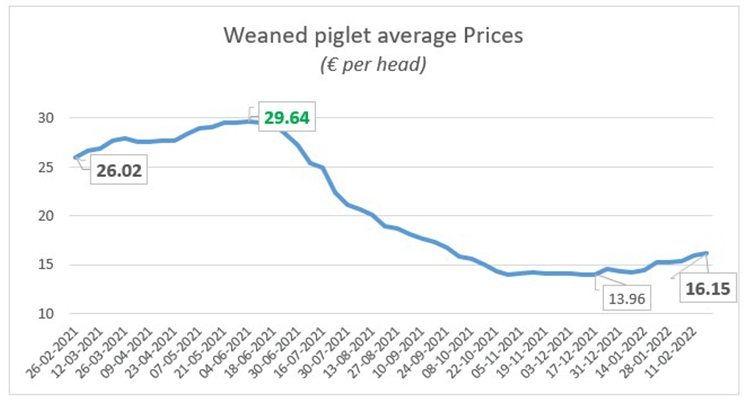 Market Hog Price
As the culled sow and piglets prices remain timid, a market hog price increase has been observed in the last 3 weeks. Last Friday the average carcass price was 1.295 € per kg after having been around 1,248 € in January.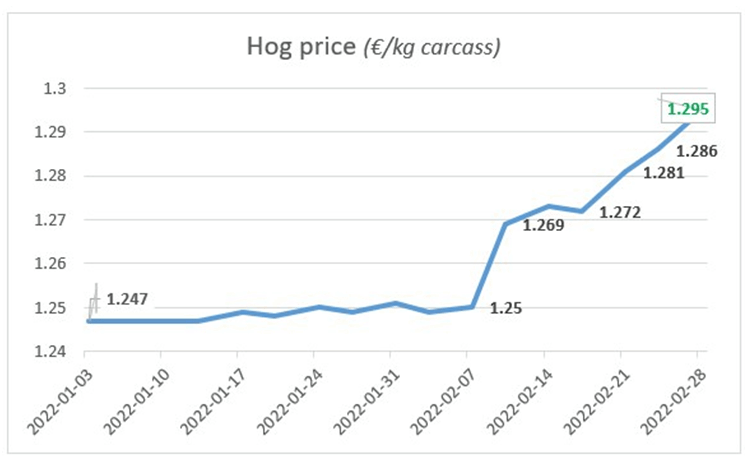 In many other European countries, pig prices have increased as well in the last week: Germany (+7cts), Denmark (+4,7 cts), Belgium (+7cts).
Overall there are fewer pigs in Europe so trade should be better priced as spring approaches due to season and more relaxed COVID restrictions.
Still, there is one major troubling factor that might affect the market; the conflict between Russia and Ukraine. No doubt this major event will shake the economy. An increase in energy cost, as well as further record-high feed prices, are feared. Last Thursday wheat price has jumped by 50 € per Ton (340 € per Ton).
The world is changing and we don't know yet the consequences.

Source : Marché du Porc Breton